Introduction
Choosing the right ERP system for your business is no small task. There are a multitude of excellent options with a vast range of features, pricing, and capability. If you're considering an open-source ERP system, there's a compelling choice to consider: Odoo ERP. It's a time-tested platform that stands out for its adaptability, affordability, and functionality. Want to know more? Let's take a look at the top 10 reasons to choose Odoo ERP for your business.
1. Open Source Platform
Odoo ERP business software is an open-source platform that has been in active development since 2005. Odoo's software features make it an accessible and cost-effective solution compared to closed systems like SAP. One of the biggest benefits of being an open-source ERP? It's Community Edition. This deployment solution offers immediate usability, allowing companies to download (and grow) along with the system without having to make a significant upfront investment.
Can I start with the Community version, and then later switch to the Enterprise Edition? 
The open-source nature of Odoo also makes it more customizable to meet your business needs, while still being cost-effective. With open-source philosophy at its core, Odoo offers simpler license management and no contractual lock-in either.
One side benefit of being open-source? The platform has attracted a large selection of dedicated Odoo ERP integration partners.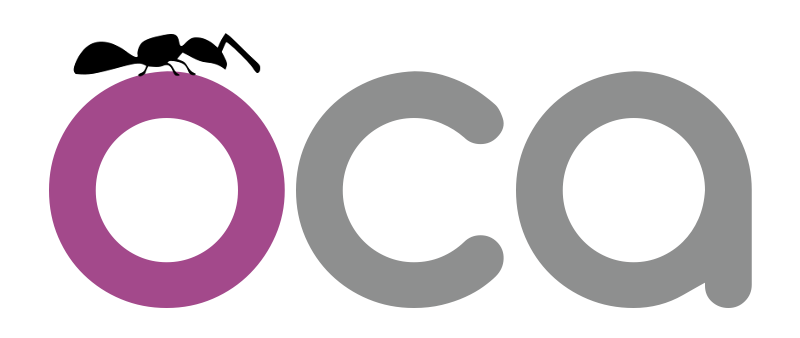 Odoo's community-driven, open-source approach also ensures greater reliability. With thousands of expert developers working to continually improve the software, identifying and fixing security flaws and bugs helps keep the software functional, and secure.
With such a vast community working to support the software, and almost twenty years of proven history, Odoo's continuing popularity as an open-source ERP shows that it's here to stay.
Want to know more about integrating Odoo into your business?
2. Modular Structure
Modular design is central to Odoo functionality. Being built this way provides a flexible and adaptable solution for businesses of all sizes, allowing features to be grouped according to specific needs.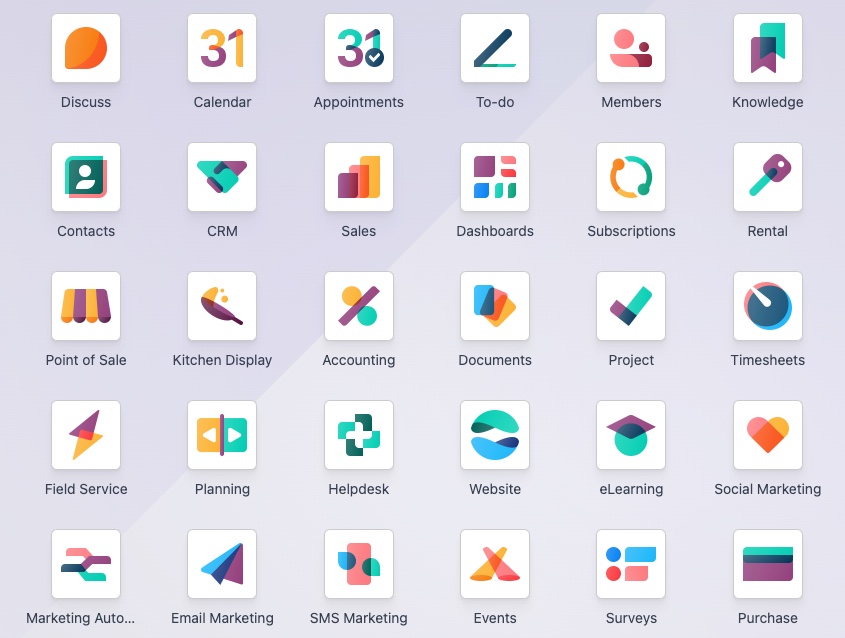 As a business evolves, features can be added or removed easily, making integration and customization simpler than in closed ERP systems. Odoo's ERP business functions cover essential elements like Sales, CRM, Inventory Management, Manufacturing, and more. Being modular in nature helps ensure smooth inter-module integration.
Odoo's adoption worldwide combined with its modular nature makes finding localized or niche solutions easy. On top of that, businesses can also select only the Odoo software features they require. This leads to reduced implementation time and risk, as well as avoiding unnecessary costs for unneeded features.
Why do we call Odoo a LEGO? 
The open-source and community-driven development further supports Odoo's modular design, enabling faster updates and responsiveness to changing business needs. Together, these aspects underline the efficiency and adaptability of Odoo's modular system, tailored to modern business demands.
3. Scalability
The scalability of Odoo ERP is fundamentally linked to its open-source nature. This makes Odoo an adaptable solution for growing a business. 
"As your business needs evolve, Odoo's architecture stands ready to support the increased volume of data and the inevitably more complex operations of a growing business."

Oleg Kuryan
This scalability is more than a feature. It's a fundamental design principle that offers flexibility to change and grow with the business. When you rely on an expert integrator, the strategic planning, and implementation of Odoo is tailored to meet both current and future business requirements.
Unlike closed or proprietary software that may limit functionality, Odoo's open-source structure and vast marketplace of add-ons enable companies to develop features specific to their needs.
Is Odoo only for SME businesses? 
Whether working with an integrator or leveraging the large Odoo marketplace, businesses can find solutions for their unique ERP business requirements and enjoy more frequent updates. The wide range of applications (both official and third-party) along with multiple deployment options like "on-premises" and "cloud" also contribute to Odoo's versatility.
Particularly, Odoo's cloud hosting option lends itself to easily and quickly meeting increased business demands, further highlighting its scalable potential. In essence, Odoo ERP provides a growth-oriented solution that can adapt with agility to the ever-changing landscape of modern business.
Contact us today if you are interested to learn more about how we can help ensure that your Odoo integration will scale as your business grows.
4. Wide Range of Applications
As mentioned, Odoo comes with a number of native apps that are complemented by a vast marketplace of add-ons, or what are known as 'Modules' – and there are currently over 40,000 of them! This is perfect for companies that need to find additional software to suit their unique business.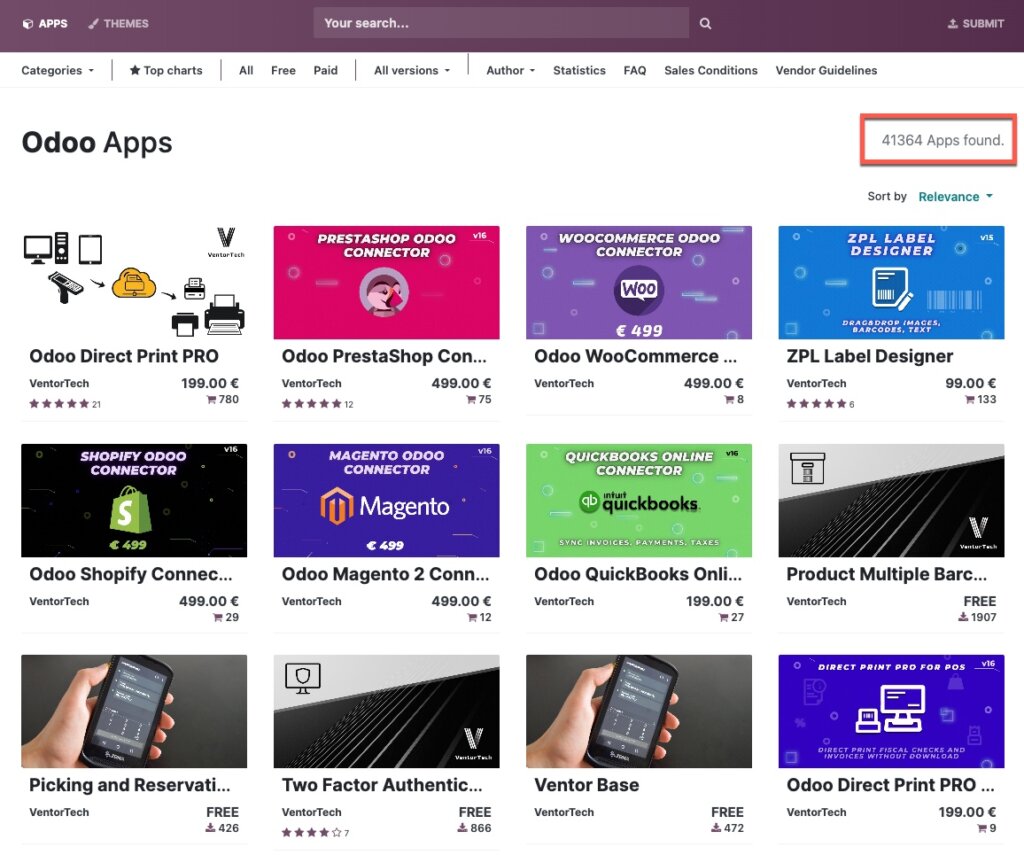 The Odoo marketplace includes solutions for almost every need – from the most niche to popular apps like our Odoo Direct Print PRO and Ventor PRO.
When an exact fit is not available, the open-source nature of Odoo allows for custom-built solutions, tailored to meet a company's unique business needs. There is a wide selection of experts out there who are equipped to create these custom integrations, providing yet another layer of flexibility and adaptability within the Odoo ecosystem.
If this tailored approach aligns with your business needs, don't hesitate to contact us for more information.
5. Ease of Integration
One of the biggest benefits of Odoo ERP for business is its ability to integrate with third-party platforms. This is another testament to its modular design. For example, Odoo natively integrates with popular payment platforms like PayPal and Stripe. Through its vast module marketplace, users of Odoo also enjoy unparalleled connectivity with a wide array of popular platforms.
Whether it's e-commerce platforms like Shopify or PrestaShop, integration with Odoo streamlines the operation of your business. This not only enhances functionality but also allows clients to continue using tools that have proven effective for them. The result is a centralized data system that offers flexibility and efficiency, tailored to the unique needs of each business. By embracing this modular integration approach, Odoo stands as a versatile solution that simplifies these connections and fosters adaptability and growth.
Odoo connectors that help partners do business, not coding | Odoo Experience 2022 | VentorTech 
6. Customization Capabilities
Odoo's customization capabilities are essential to its mass appeal. Like its integration ability, Odoo's ability for customization stems from the platform's open-source architecture, design, and robust community support. With virtually limitless possibilities for customization, businesses running Odoo can enable and disable functionality as required, making for a tailored solution that fits their unique needs.
The large online marketplace of modules, consisting of both free and paid add-ons, offers users a broad spectrum of solutions to enhance their Odoo deployment. This advantage applies to both large and small companies, facilitated by Odoo's modular design that makes integration both affordable and seamless.
Beyond off-the-shelf solutions, Odoo's customization reaches even further through Odoo Studio, allowing companies to build their own applications.
Expert implementation partners enrich Odoo ERP customization, working closely with clients to craft unique adaptations that reflect their specific business requirements.

This multifaceted approach to customization positions Odoo as a flexible and adaptable ERP solution, capable of evolving with the diverse and changing demands of modern enterprises.
Curious about customizing Odoo for your business?
7. Odoo Partners
The range of specialized integrators working with Odoo also highlights the extensive adaptability and global reach of this award-winning ERP platform. It also gives companies confidence knowing that Odoo ERP is here to stay.
With millions of Odoo users worldwide, there exists a vast collection of recognized development partners. Dedicated companies exist to help businesses integrate and customize their Odoo ERP implementations.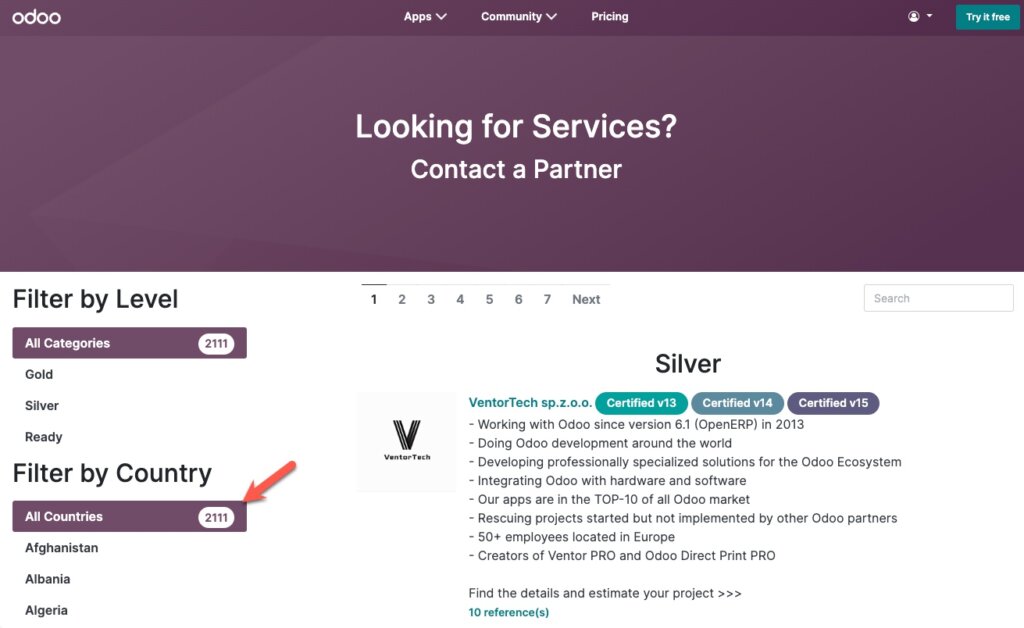 Interestingly, many Odoo integrators often focus on specific areas. Some focus on working within specific industries, such as manufacturing or retail. Others' expertise is based on specific Odoo modules like CRM or Accounting. Some integrators choose to concentrate on geographical regions or specific business sizes, ensuring that every client can find a suitable expert for their unique needs. The ability to specialize like this demonstrates how well-supported the Odoo community is.
Want to know more about integrating Odoo the right way? We are an Odoo Silver integration partner with a decade of experience. Our team of 60+ professionals serves clients globally offering professional solutions for the Odoo ecosystem. Our specialties are focused on:
Sales
Purchasing
Finance
Logistics
and more
We have also created a name for ourselves rescuing Odoo projects "gone wrong".
At the end of the day, Odoo's diverse range of integrators demonstrates the platform's commitment to versatility and being "customer first". This makes Odoo ERP a preferred choice for businesses seeking a tailored and responsive ERP solution.

8. Cost-Effectiveness
Odoo's suite of modules is designed to be cost-effective and deliver a positive return on investment (ROI). These principles are central to its appeal as an ERP solution.
From Manual to Automated: How Odoo ERP Helped a Swiss IT Service Company to Grow Turnover 2.5 Times 
Odoo offers simple and flexible pricing options, starting with their free version that lets users explore a single app. What's best is that Odoo's paid plans each include every native app, and for a low monthly per-user fee. And of course you can check out their fully-featured free trial. For more about Odoo's pricing, refer to our article about licensing and reducing costs.
Unlike specialized platforms that focus solely on functions like finance or CRM, Odoo provides modules that cover all aspects of business. These modules work in harmony, enhancing productivity and reducing manual labor by automating and helping to streamline your business processes.
Such efficiency not only saves time but also enables teams to concentrate on strategic activities, directly contributing to the company's bottom line. This helps to foster transparency and facilitates data-driven decision-making.
Improved processes and efficiency help teams achieve their goals. As an example, Odoo's built-in CRM and marketing modules help to optimize the entire sales process. This makes the entire journey transparent and easy to execute, translating into tangible, positive ROI.

Odoo's reporting and analytics tools also offer critical insights into business performance. They allow for easy identification of trends (or issues) in areas like inventory levels, sales, and even customer behavior.
This comprehensive approach to efficiency and intelligence positions Odoo as an economically sound ERP solution that resonates with businesses seeking value and effectiveness.
9. Competitive Advantage
Odoo empowers businesses with a competitive edge in a global market that is more challenging than ever. Historically, ERP platforms were out of reach for many companies (especially small ones). This gave the privileged few that could leverage them an advantage in finding growth and success.
Odoo breaks down these barriers and fulfills the need for ERP in business, regardless of how big or small the company is. This accessibility allows businesses to harness a multitude of advantages, including process automation, centralized data, real-time information access, improved collaboration, enhanced customer service, and optimized processes across all departments.
Transforming E-Commerce for a European Tobacco Company: A Journey to Unprecedented Efficiency 
With these tools, companies using Odoo can also benefit from company-wide data reporting and analytics, among other features.
In other words, Odoo helps to level the playing field. This gives companies access to advanced business management tools and enables them to reap the rewards in an environment that is only getting more competitive.
10. Cloud and On-Premises Deployment Options
Odoo's flexible deployment options cater to businesses of all sizes and needs, offering both Cloud and On-Premises solutions to fit unique requirements. With just "a couple of clicks," an Odoo Cloud instance can be up and running. Odoo's cloud option provides easily accessible data from anywhere, and the peace of mind that comes with knowing it's managed and monitored by the Odoo team to ensure "top-notch" performance.
For those seeking more control and customization, an on-premises installation is available, made easy with support from expert integrators. This option allows complete control over the ERP environment and data.
How to install Odoo on your server using Odoo install script | VentorTech 
Whether choosing the convenience of the cloud or the customization of an on-premises solution, Odoo's deployment flexibility speaks volumes to its ability to serve businesses across the spectrum, underlining its adaptability to various factors and business needs.
Conclusion
If you're considering Odoo ERP to manage your business operations, we think you will appreciate how it stands out for its flexibility, accessibility, and cost-effectiveness. It's an ERP platform that caters to all business sizes, and its open-source nature enables customization and continuous development. On top of all of this, Odoo's modular design supports adaptability and integration. The platform's scalability allows for growth, and a wide variety of applications enhance functionality. With various deployment options and a focus on ROI, Odoo offers a resilient solution well-suited to modern business needs.
For more information on integrating Odoo ERP into your business, contact us today
Recommended articles: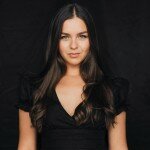 ----------------------------------------------------------------------
Education: Bachelor's degree.
----------------------------------------------------------------------
Experience:
Marketing manager
VentorTech
Digital marketer
ElateSoftware
Marketer
Interhash Trade
Community Manager, Digital Marketer
Cryptocode
----------------------------------------------------------------------
Current position: Marketing manager VentorTech
----------------------------------------------------------------------
B2B Social Media Marketing
Google AdWords - advertising
Google
Google Tag Manager and GA
Launch and promotion of a YouTube channel
YouTube for business and personal brand
Video Production