Engulfed in the complexities of sourcing, production, and distribution, businesses seek solutions to streamline their supply chain operations and bring innovation into their processes. This is where Odoo, a popular business software suite, comes in. Odoo's sophisticated management module provides businesses with a seamless blend of efficiency and game-changing functions, ushering in a new era of improved operations and enhanced competitiveness.
Understanding Odoo's supply chain management system is critical, as it is altering how businesses approach and excel in their supply chain activities.
Efficiency and Streamlining Operations
Efficiency is crucial to make sure that tasks are done quickly and smoothly while also reducing the waste of resources and time.
How Odoo Streamlines Various Operations?
Through Odoo ERP implementation, businesses can streamline processes using various innovative tactics:
Workflow Automation: Odoo automates manual jobs and repetitive procedures, eliminating human error and speeding up supply chain activity execution.
Efficient Procurement: By automating supplier contacts, managing lead times, and assuring prompt inventory restocking, Odoo's procurement module helps streamline purchasing procedures.
Integrated Inventory Management: With Odoo, businesses can track inventory levels in real time, set reorder points, and manage the function of supply chain management across multiple locations, preventing stockouts and overstocking.
Optimized Production Planning: Odoo aids in efficient production planning by aligning production schedules with demand forecasts, minimizing idle time and excess inventory.
Quality Control: Throughout the supply chain, the system integrates quality control checkpoints to ensure that items satisfy set quality requirements before reaching clients.

Overall Effectiveness
With the Odoo license cost-effective system, you get a winning combination of efficiency and task integration, as required for active, thriving businesses. Such functionalities are essential for quickly reacting to dynamic settings. Furthermore, the system's favorable impact on supply chain performance directly impacts customer satisfaction.
Customers are delighted when orders are filled on time, inventory is managed efficiently, and lead times are decreased. Odoo's holistic supply chain strategies ensure total business performance by streamlining supply chain operations, increasing productivity, and creating pleasant customer experiences.
The Experienced Odoo Analysts Team
To address modern supply chain concerns, Odoo provides advanced management tools.
With a team of experienced analysts, Odoo can do magic! Our dedicated team can configure and customize your system, making sure that any end consumer issues are addressed.
Analyze your requirements and get an estimation for your Odoo project
The Utilization of Configuration and Customization
Odoo's supply chain management solution revolutionizes operations, all of which can be customized to your business with the right team guiding how you meet your needs with this state-of-the-art system. A skilled Odoo team of experienced analysts can help you to adjust and tailor individual operations within the system in order to solve your most pressing problems.
For example, you will want to make sure to retain the services of an Odoo team that can competently help you make sure your company doesn't end up with too much or too little inventory in your storage. Having an overflow of stock can be costly, yet not having enough can lead to missed sales and upset customers.
Advantages of Inventory Optimizations using Odoo
Implementing Odoo for optimizing inventory has various benefits:
Precision in Demand Forecasting: We implemented a few custom solutions that can analyze historical data and market patterns to generate accurate demand estimates, lowering the likelihood of stockouts and overstocking.
Supply Chain Management Optimization: Our custom modules can evaluate complicated supply chains and suggest optimal solutions, which aids in achieving streamlined and efficient operations overall.
Reduced Holding Costs: Special apps like Ventor PRO guarantee ideal inventory levels, eliminating surplus stock that ties up money and storage space.
Reduced stockouts: Implemented special custom analytic dashboards assist our clients in maintaining ideal stock levels, avoiding sales loss due to product unavailability.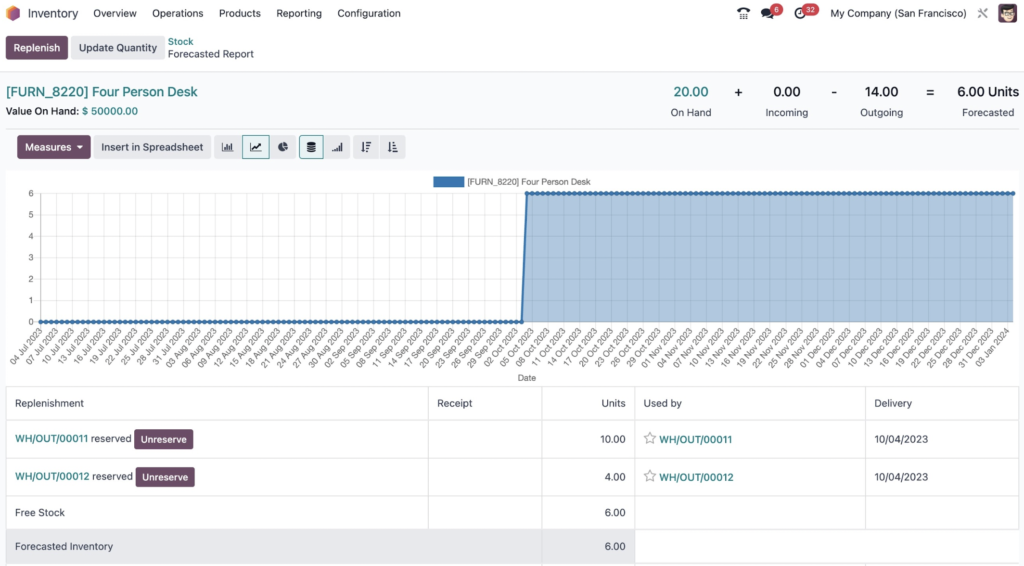 The Future of Operations and Supply Chain Management
The logistics of the future will be a seamless integration of modern tools, information-driven choices, meeting requirements for environmentally friendly procedures, and increasing efficiency and resilience.
Odoo's Continuous Effort
Odoo is constantly pushing past the limits of supply chain management solutions. Odoo's software package is continuously refined by tireless reviews and new developments, which affects the implementations of cutting-edge technologies for emerging industry needs. The platform's capabilities grow with each iteration, real-time analytics, and customized modules that cater to a wide range of business demands.
This dedication to continuous improvement generates a dynamic ecosystem, allowing enterprises to stay ahead of the competition in a continuously changing business sector. Odoo's constant effort underlines its commitment to offering optimal supply chain management solutions that generate operational excellence and future-proof supply chain strategies by aligning with industry trends and user feedback.
Automate your supply chain management with Odoo
Ongoing Research and Development
Odoo is constantly trying to break new records and provide businesses with excellent solutions for revolutionizing their advancements:
IoT Integration: Integration of IoT devices to gather real-time information from storage facilities, manufacturing lines, and transportation for better decision-making.
Sustainability Solutions: Creating tools to assess and mitigate the environmental impact of supply chain activities while adhering to environmentally acceptable policies.
Cognitive Automation: Exploring how cognitive automation can handle unstructured data, such as emails and documents, to streamline communication, supply chain management, and efficiency.
Robotic Process Automation (RPA): Investigate how RPA can automate routine processes such as data entry, invoice processing, and order tracking, thus freeing human resources.
Conclusion
Odoo is a forerunner in supply management, elegantly combining efficiency and innovation to transform how organizations operate. Odoo's ongoing commitment to research and development guarantees that organizations remain equipped to succeed in the face of obstacles as the landscape of operations and supply chain management evolves.
Odoo is paving the way for a new era of efficient, robust, and customer-centric supply chain operations, with a clear vision for the future and a track record of innovative solutions. Consulting with the right Odoo experts paves your way to making sure that you can maximize Odoo's functions for successful ongoing operations.
Estimate your Odoo project
Recommended articles: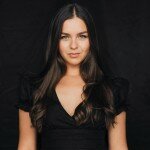 ----------------------------------------------------------------------
Education: Bachelor's degree.
----------------------------------------------------------------------
Experience:
Marketing manager
VentorTech
Digital marketer
ElateSoftware
Marketer
Interhash Trade
Community Manager, Digital Marketer
Cryptocode
----------------------------------------------------------------------
Current position: Marketing manager VentorTech
----------------------------------------------------------------------
B2B Social Media Marketing
Google AdWords - advertising
Google
Google Tag Manager and GA
Launch and promotion of a YouTube channel
YouTube for business and personal brand
Video Production