Odoo QuickBooks Online Connector
Sync Invoices, Payments, Taxes, between Odoo and QuickBooks Online (Intuit) automatically or manually
BUY NOW >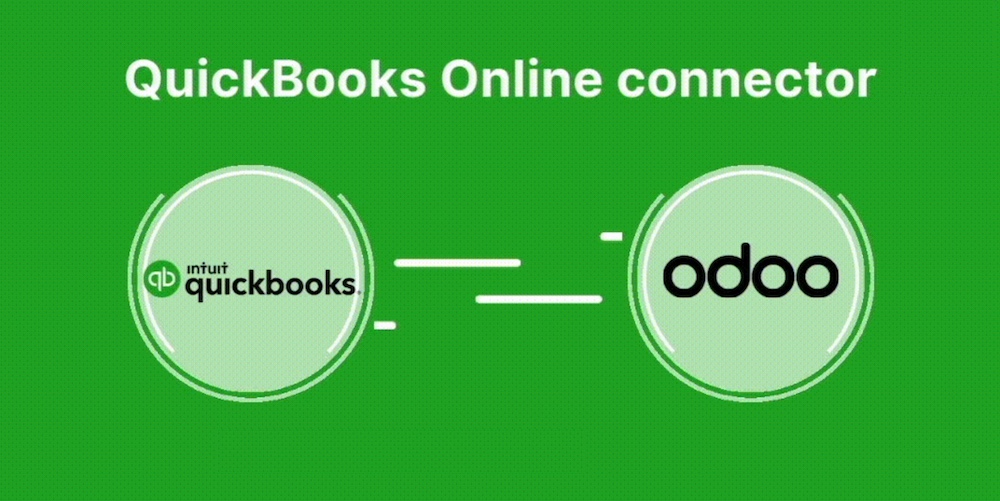 The app connects Odoo and your QuickBooks Online (Intuit)
Created by VentorTech, an Official Odoo partner
Import and Export your Invoices, Payments, Taxes, Partners, Products, Accounts, Payment Terms and Methods, Departments from Odoo to QuickBooks Online (Intuit) and vice versa. Also, you can send payment links directly from Odoo to your customers. This Odoo Intuit connector allows both manual and automatic sync (two way).
Two-way Import <> Export
Invoices, Payments, Partners, Products, Accounts, Taxes, etc.
Automatic and manual mode
Via postponed asynchronous jobs (UI is not blocked)
Multi-company support
Syncs data between Odoo multi-companies
Taxes synchronization
Get taxes from QuickBooks for Sales Orders
Export to QuickBooks
Customer invoices/credits, Vendor bills/refunds
Send Payment in one click
Easy way to send payment link to customer invoicer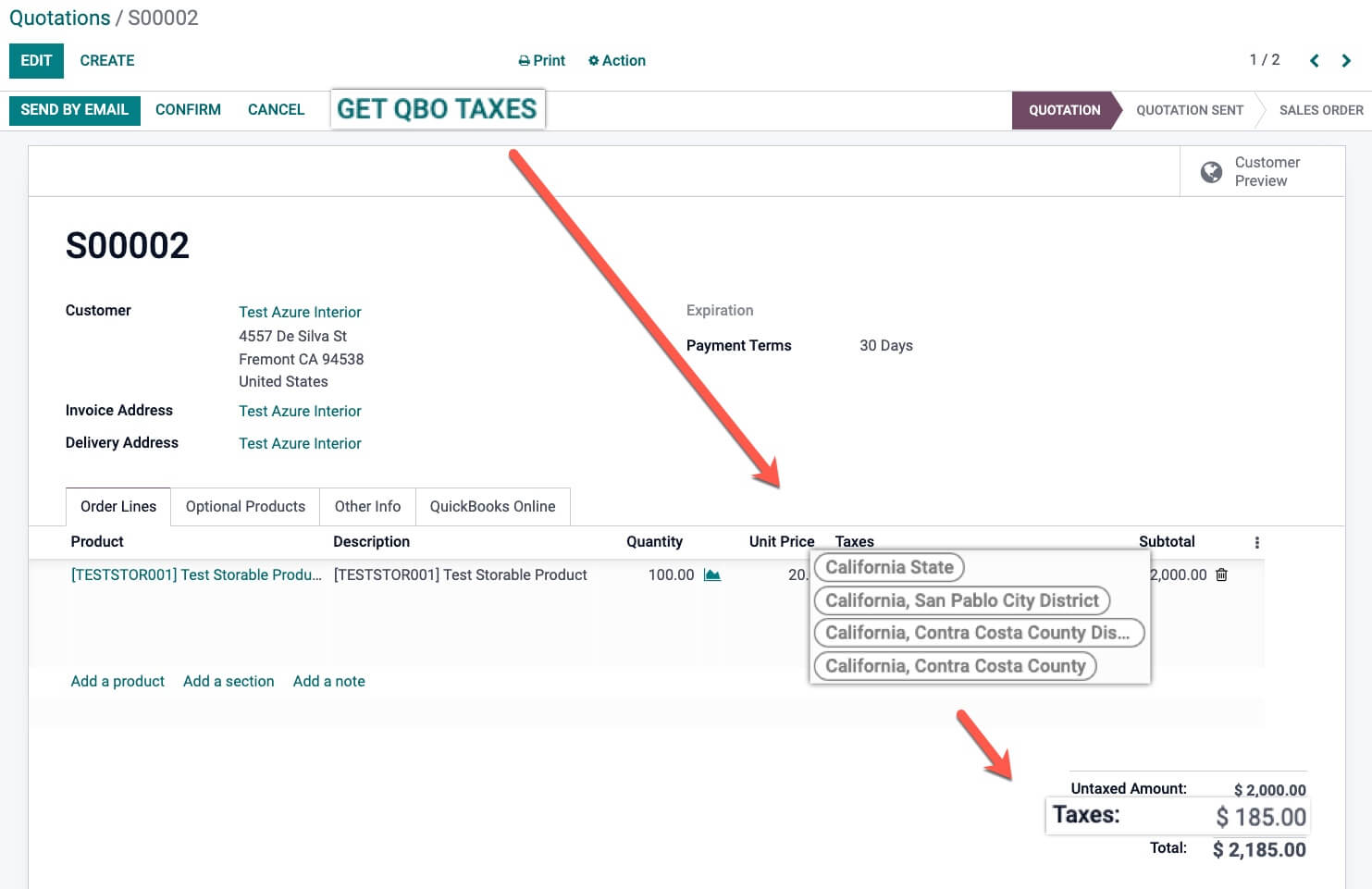 Get taxes from QuickBooks by clicking one button. No need to manually select them. Once imported, you can apply them as a default. No Tax Cloud subscription is needed
Watch the video >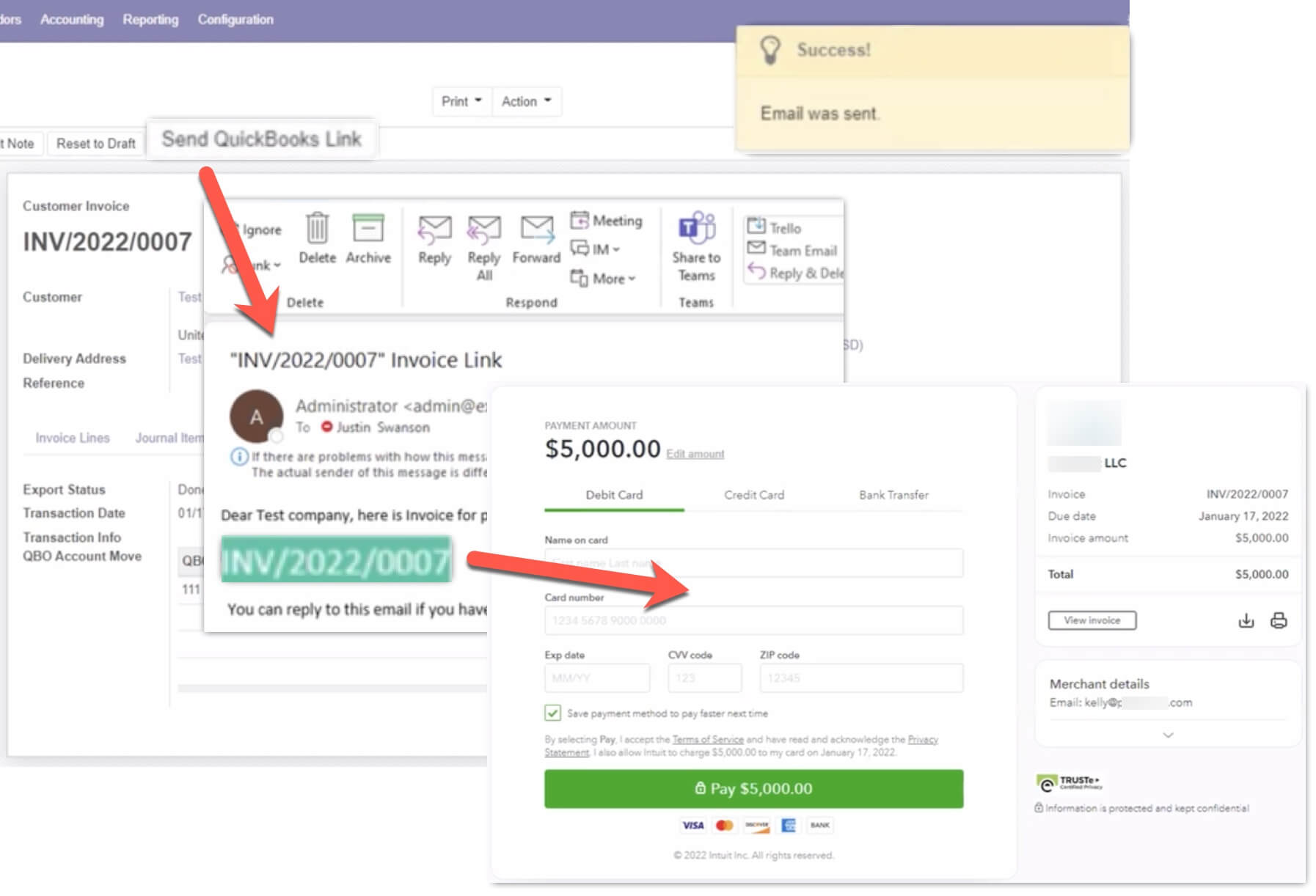 Send a direct invoice payment link in Intuit to your customer by clicking a button in Odoo
Watch the video >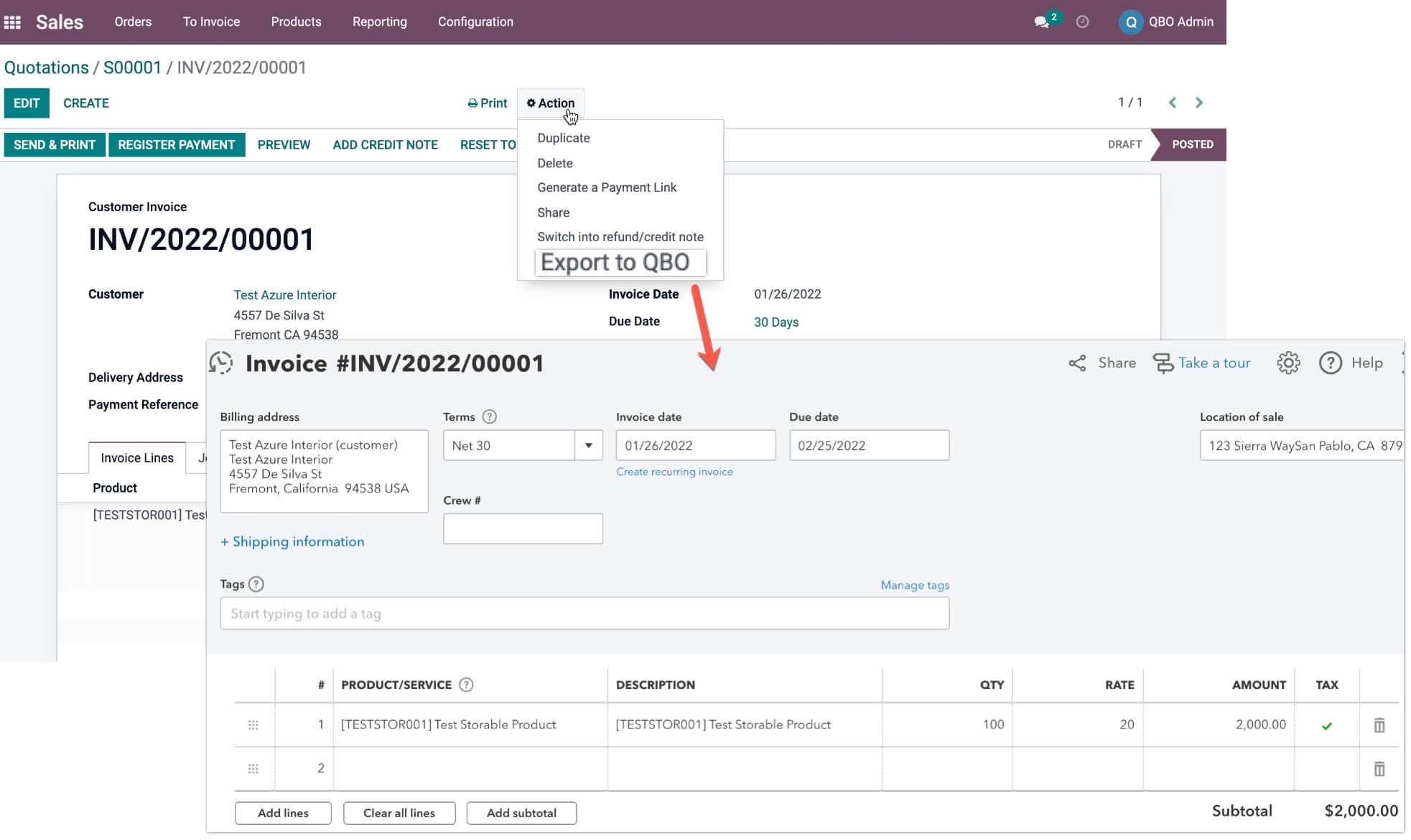 Export an invoice from Odoo Accounting to QuickBooks in just one click. Auto export also included
Watch the video >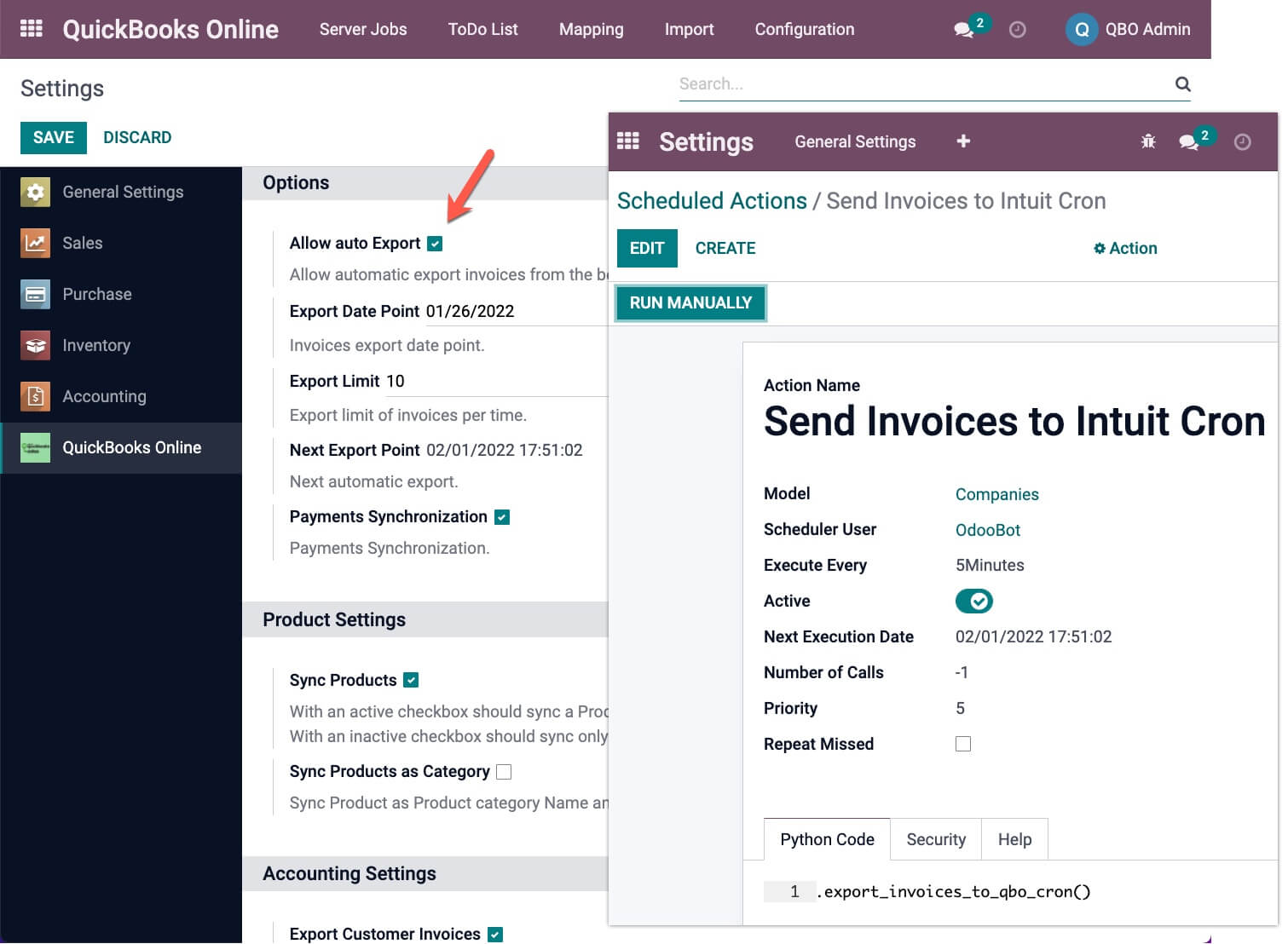 Sync automatically or manually. A variety of settings allows you to flexibly configure connector for your needs
Watch the video >
Simplify your accountants routine
With an Intuit QuickBooks Online - Odoo integration from VentorTech
TRY the app Now
€199
What's included in the Quickbooks Data Migration? For taxation purposes, I need to have access for the last 8 years of history

Data will be migrated to Odoo from Quickbooks according to Odoo Guidelines. That is not only Odoo Guidelines, but any ERP system guidelines on how to migrate data from old accounting software:

1) To have access to old data, you just export it to excel so after your account is switched off - you have access to it https://quickbooks.intuit.com/learn-support/en-us/account-management/how-do-i-export-transactions/00/920450

2) Create a specific misc. operations journal in which the opening balances will be imported. It is advised to name it as the previous software (for example : QuickbooksOnline). This step is optional but it will help the user to remember that the item he will reconcile comes from the previous software. If more details are needed, (s)he knows that he can consult the invoice/bill in the legacy system.

3) Extract the closing balances from the legacy software. Basically, you will need to extract 3 types of data :- General Balance = the balance of the general accounts.- Customer Balance = the list of unpaid invoices for each customer.- Vendor Balance = the list of unpaid invoices for each vendor.

4) Import above extracted data into Odoo so opening balances in Odoo will be correct. Done!

It is in the nutshell but it usually takes lots of time.

We want to move away from Quickbooks and need all the history imported to Odoo.Is it possible with your connector?

If you check a scheme above on this page, there is a great diagram showing what the goal of the module is.

Note that accountants are not the easiest people to migrate to the new system. In the future we are planning that there will be an "easy button" of importing all transactions from Quickbooks to Odoo. But, the goal of connector is to allow all other employees in the company to work in Odoo, while accountants will continue working in Quickbooks without need to do double entry.

Never I saw accountants that switched from other accounting system (Sage, Quickbooks and etc) immediately to Odoo. Moreover, individual transactions SHOULD not be synchronised to Odoo when you switch from Quickbooks to Odoo. It is even written in Odoo migration guidelines. So anyway the "easy button" will not work like you describe (and should not work like this). It should migrate only balances as of specific date and left payables and receivables. https://www.odoo.com/forum/help-1/accounting-opening-balances-import-process-186499

So connector is designed to make sure that transition to Odoo will be smooth and painless for all involved.

Does it support multiple currencies?

We are sending the currency of the invoice from Odoo to QuickBooks Online.

How does it work for multi company?

In every company you should connect to QBO. Our connector supports multi-company
Want Odoo QuickBooks demo?
Leave your request below. Note, it's for Odoo integrators only
This connector effectively syncs records between Odoo and Quickbooks Online. The configuration options allow for varying degrees of integration depending on what's needed (one-way or two-way sync). Oleg and his team have been very helpful with implementation and were quick to push updates and new features upon request. Great plugin.
Hayden McCarthy
Additive Apprentice Next Chapter Manufacturing
From initial installation to implementation, support was top-notch. I highly recommend this product to any business wanting to integrate their Odoo sales with their QuickBooks Online accounting application. The connector's features are very intuitive and after it is implemented require no further intervention from the user (set and forget).
My only gripe was the long process of setting up the QuickBooks app for integration. Intuit requires you to provide a lot of information just to connect a third-party application to their software. This is no fault of this developer, however, I wish that process was a little easier.
I give this product 5 stars.
Nathanael Antoine
Inline Traders SLU Ltd