Alexander Molter from Darier & Cleef GmbH ( a leading European tobacco company) tells about his experience with our company. Discover how VentorTech, the trusted Odoo integrator, revolutionized their e-commerce operations, propelling them towards unmatched efficiency. Hear firsthand from the visionary owner as they recount their extraordinary journey to success.
So, what does Alexander says about VentorTech?
" We started working with Odoo together with VentorTech about 5 years ago. But our story started with another company which rolled out Odoo ERP system in our company. And we were facing some problems there and our demand couldn't be properly met with our first Odoo partner, so we started looking around for alternatives and we met the guys from VenterTech, which had a very cool Android scanning software which we implemented in our warehouse, that was the first part of the software we rolled out and we were so satisfied with this kind of software.
Then we started to move our Odoo project from our old Odoo partner to VentorTech and while it was going we were connecting two Magento shops to our Odoo ERP, we were developing a PIM system (product information management), where we are holding all our images and product information for the online shops and manage all that data in a central database.
Want to automate your business?
We were optimizing our whole warehouse processes enormously, we were able to double the amount of orders, that we process every day and at the same time we were reducing our warehouse stuff by over 50 %.
Right now we are operating our warehouse with only 2 warehouse operators and we are sending significantly more than 100 orders per day average. We are very satisfied, we have a very slim and very well organized warehouse. All digital we don't print any paper anymore – it's all managed on our mobile devices, which run the Ventor software, which connected to our Odoo ERP.
We have been working with VentorTech for five years and I would always do it the same way again! "
Also, Alex sent us a video with his review, you can already watch it on our YouTube channel:
Want to see the same kind of growth that our client achieved with Odoo ERP? Let's explore how it can work for you!
Recommended articles: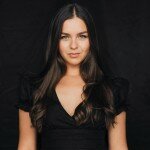 ----------------------------------------------------------------------
Education: Bachelor's degree.
----------------------------------------------------------------------
Experience:
Marketing manager
VentorTech
Digital marketer
ElateSoftware
Marketer
Interhash Trade
Community Manager, Digital Marketer
Cryptocode
----------------------------------------------------------------------
Current position: Marketing manager VentorTech
----------------------------------------------------------------------
B2B Social Media Marketing
Google AdWords - advertising
Google
Google Tag Manager and GA
Launch and promotion of a YouTube channel
YouTube for business and personal brand
Video Production