About the company
A global payment and specialized technology provider serving over 150 financial institutions, from established tier one banks to disruptive digital players. The company is headquartered in London and has offices in New York, Frankfurt, Madrid, Lisbon, and Dubai.
We implemented this Odoo project in collaboration with our partner from the UK, Wirebox.
Problems
The client provided IT services for a large number of customers. Each customer had many ongoing and planned projects, and each project required a team of the client's employees.
Excel spreadsheets and outdated accounting software were used to manage all these activities.
As a result, there were budget overruns, missed deadlines, resource unavailability, and inefficiencies in the company's processes.
The client needed process automations to improve efficiency, reduce costs, and better serve its customers.
The three main bottlenecks were:
Lack of a CRM system
The client did not have a dedicated customer relationship management (CRM) system in place to collect information about leads and manage contract details. As a result, they were forced to manually manage around 500 contacts per year and all related information using Excel spreadsheets.
Manual invoicing process
The process of creating invoices was entirely manual and often took several days to complete. This led to delays in the billing cycle, which impacted cash flow and strained the client's relationship with their customers.
Absence of a specialized HR system
The client did not have a centralized and specialized system for managing their human resources (HR) department. This made it difficult to track employee data, manage payroll, allocate employees, and ensure compliance with labor laws and other regulations.
Goals
They identified two primary goals:
Implement a centralized system for managing CRM and sales processes in one place.
Automate invoicing from employee timesheets.
Want to manage all your business processes from one centralized system?
Solutions
To prepare for the project, several workshops were held to outline the high-level requirements and divide them into four streams:
Basic CRM and sales processes,
Timesheet tracking,
Invoicing,
HR management, which included onboarding and offboarding, annual leaves, and expenses.
After evaluating different platforms, Odoo ERP was chosen due to its modular structure, customizations flexibility, open-source nature, and cost-effectiveness. Several demos were presented to the client to showcase the platform's capabilities and compare it to other options.
The project was divided into phases, and a roadmap was established based on the prioritization of each phase. The first phase focused on employee time tracking, which was a critical business process that impacted invoicing and payroll.
For each phase, the Odoo gap analysis was conducted to identify which requirements could be met with the Odoo standard and which would need additional development.
Solution 1: Odoo Project as core essence
We made a Project (Odoo Project app) as core essence that includes contract details, dedicated team info and rates, collects consumed time, provides the possibility to approve agreements and budgets, and contains plans and fact data for reporting.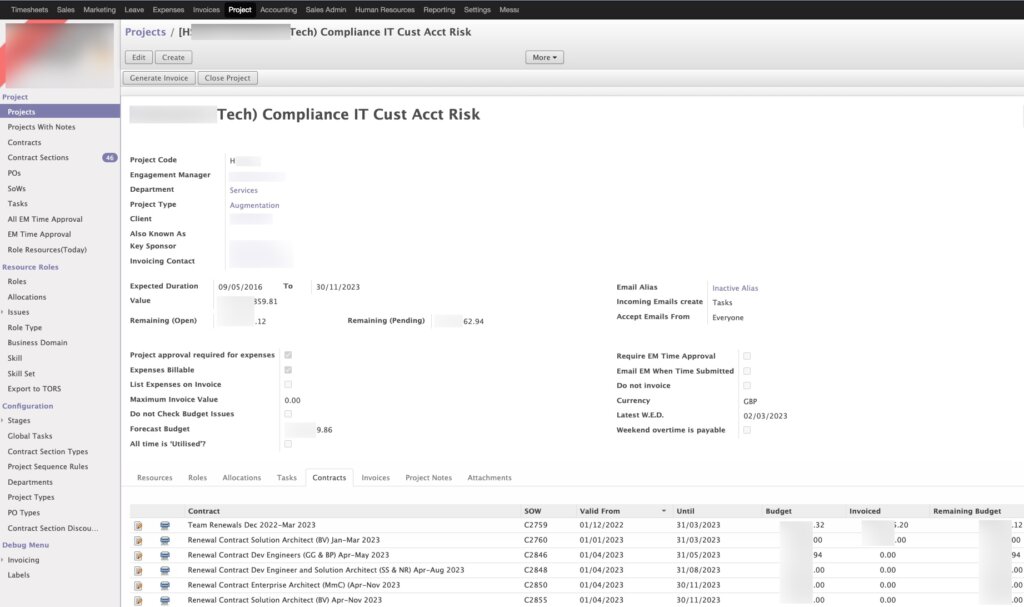 Solution 2: Autofill for timesheets in Odoo
To simplify timesheet management, we implemented an autofill feature in Odoo that populates timesheets based on the previous period, employee leave, and project allocation. We also incorporated different types of reminders for employees based on their specific conditions, ensuring timely and accurate timesheet submission.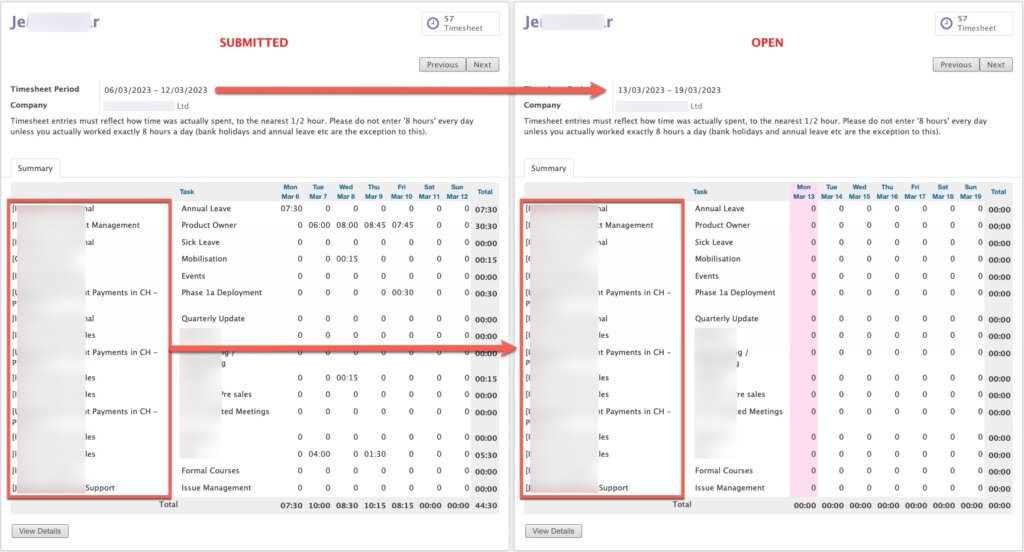 Solution 3: Auto Invoicing in Odoo
This powerful feature can automatically generate invoices based on the time logged in the Odoo system. It joins data from several contracts and calculates the cost strictly according to the rate of different day types, such as working days, weekends, and overtime. The auto invoicing feature also provides real-time visibility into invoicing status and helps to reduce the risk of errors or missed invoices.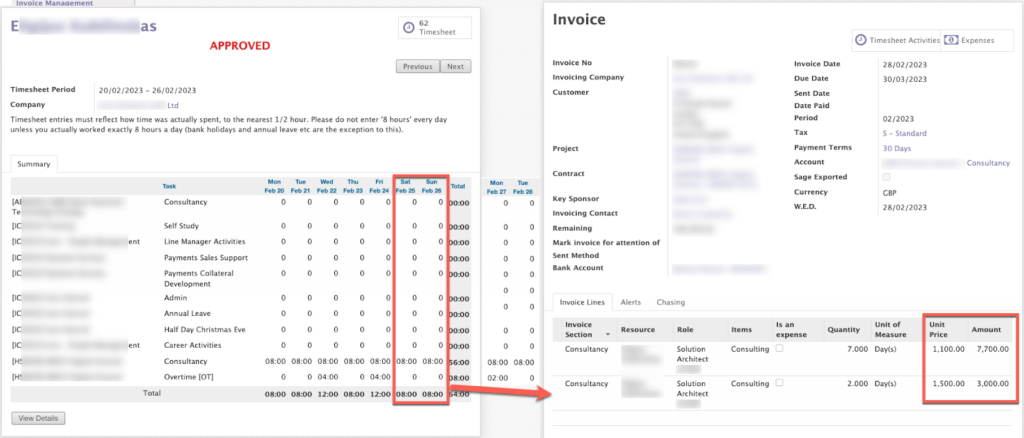 Solution 4: Employee expenses tracker in Odoo
We implemented an approach to manage expenses for business trips and external workshops. With this new feature, employees can easily register all their expenses in Odoo in just a few minutes, eliminating the need for paper bills and reducing the accounting team's workload.
Solution 5: Odoo Harvest integration
To provide managers with real-time insights and data-driven decision-making, we integrated Odoo with Harvest reports. This allowed us to provide analytics on project and employee performance, time tracking, and budgeting, all in one centralized system.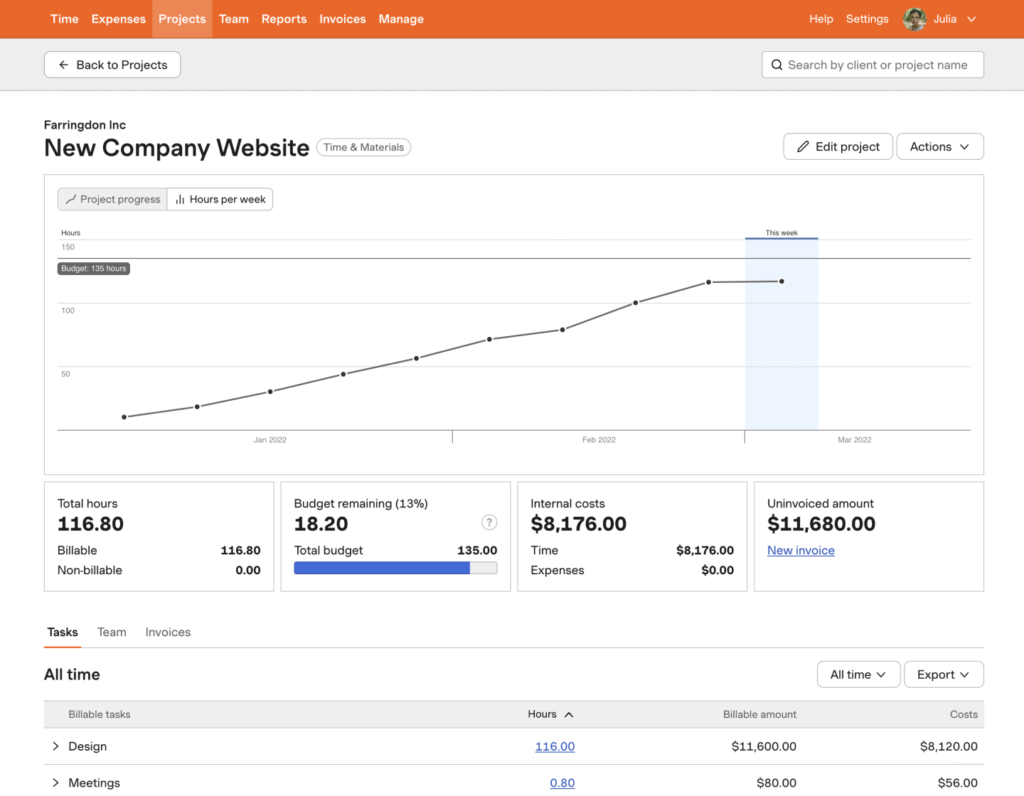 Solution 6: HR management in Odoo
We configured and customized Odoo to meet the client's HR management needs, eliminating the need for third-party HR applications.
Looking to improve your timesheet operations, expense tracking, HR management, invoicing automations, and have clear reporting in Odoo?
Odoo project cost and lead time
Team
0.5 BA/PM
1 Odoo developer
0.5 QA
Lead time
6 months + ongoing support
Cost
~$120K + support
Results
The client is now able to create invoices in just a few minutes, compared to several days as before. This has significantly improved the efficiency of the accounting team, as previously they struggled to prepare invoices by the 15th day of the month. Now, with just one accountant, all invoices are ready within a few days.
Additionally, the client can now manage each project's history per client in one area for years. This has simplified project management and made it easier to access relevant information.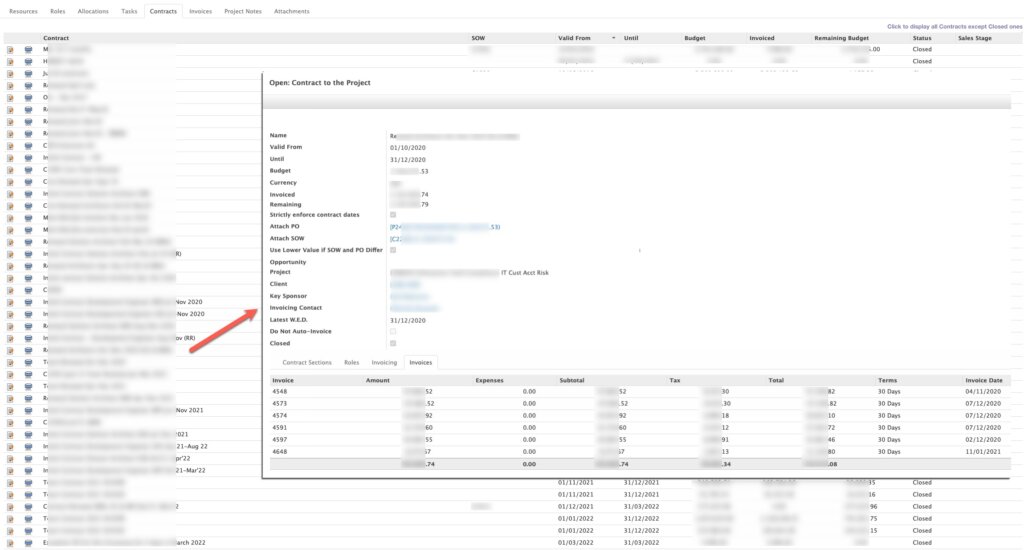 Around 250 employees are now able to track time quickly and conveniently, and the client can have plan or fact analytics per project while tracking budget expenditures in real time. Also, the HR department can easily identify each employee's allocation in real time.
And most importantly, this automation with Odoo allowed the client to level-up and dramatically increase their income. They were able to recoup their investments in automation within just 6 months.
---
Ready to take your business to the next level?
Contact us to learn how automation with Odoo can help you increase your income and recoup your investment within just 6 months.
---
- Business Automation
- Odoo ERP 8-16
----------------------------------------------------------------------
Education: Bachelor's degree.
----------------------------------------------------------------------
Current position:
Business Analyst
----------------------------------------------------------------------