What is Odoo?
Odoo is an all-in-one, open-source, user-friendly first ERP solution providing businesses with the technology needed to run efficiently and automate their processes.
User-friendliness. It's where business software often fails. Odoo is different. It's an ERP platform priding itself on being user-friendly first, while still serving the complex needs of the biggest enterprise clients. With tens of thousands of apps available, there are tools for every team – from boosting sales to project and inventory management.
Benefits of the Odoo ERP System
Odoo is so fully-featured that talking about the advantages of using Odoo ERP would be next to impossible. Instead, we'll feature Odoo's benefits for business, and the most impactful features that its wide user base, which clients love.
What are some of the biggest benefits of the Odoo ERP system? It's cost-effective and easy to use, and gives your team the power to make quick decisions while improving productivity. It's also extremely customizable. You also get:
First and foremost, a system designed to be user-friendly
A system that teams can access from anywhere
Tens of thousands of fully-integrated apps
A strong user base of 7 million people
Unlimited support and maintenance
Certification programs and educational resources
To find out how Odoo can help transform your business specifically, tell us a bit about your project, and one of our integration experts will be in touch
Cost-effective
Unlike many ERP platforms, Odoo clients have access to an entire suite of first-class applications for a low monthly per-user price. It's a solution for all – whether your company is just starting out or an enterprise-level business.
Implementing an ERP system is all about data integration, automation, and streamlining business processes. Finding the right solution for your business isn't just time-consuming, it's a big investment. Unfortunately, the cost often puts systems like these out of reach for businesses – especially the ones who have the most to gain.
This is where Odoo shines, so what makes it so cost-effective?
Simple licensing: Other ERP solutions complicate licensing by restricting access to certain applications. This one keeps things simple. One thing our clients love is that the native apps are available to every team member for a low monthly, per-user price. This is great, especially for small and medium-sized businesses with limited IT budgets.
Customizable: Clients love knowing they have the power to modify the system to best meet their own business needs. Using Odoo Studio, clients are able to custom-tailor their tools without requiring outside IT support – a time-consuming and expensive process in the world of ERP software.

Third-Party Apps: There are tens of thousands of thirty-party apps available in the Odoo app store. This means that clients can cost-effectively customize their system for the fraction of the price of having to build similar functionality from scratch.
Easy to use
Considering your ERP options? You're probably thinking about ease of use. It's one of Odoo's biggest benefits, and exactly what their team set out to create for users.
The team behind the platform knew they could build world-class apps to rival the biggest names in ERP software. They also knew that their biggest competition is not known for user-friendliness. Why?
ERP platforms typically come with a steep learning curve
This has a negative impact on user adoption
Employees get frustrated
New tools go underutilized
It's precisely why their suite of top-tier, open-source business apps have all been designed with ease of use in mind, including:
CRM and Marketing
Website and eCommerce
Accounting
Inventory
Human Resources
Point of Sale
Project Management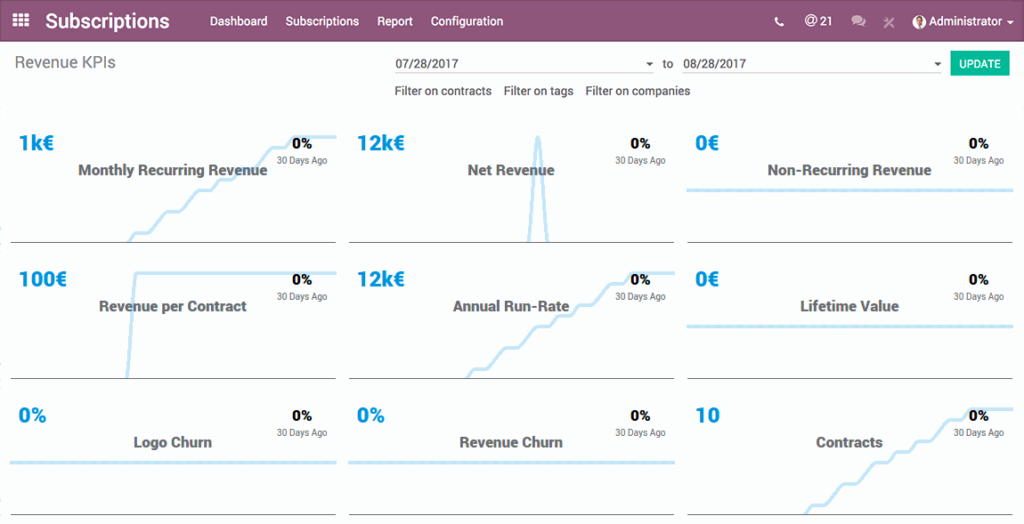 With its modern, intuitive user interface, your team will love using the tools that this system offers. While their applications have different functions, their familiarity and flow make them easy to use.
We'll talk further about this, but one thing that makes it especially easy to use is the drag-and-drop functionality. This feature allows teams to customize their tools to meet their specific, often without additional support.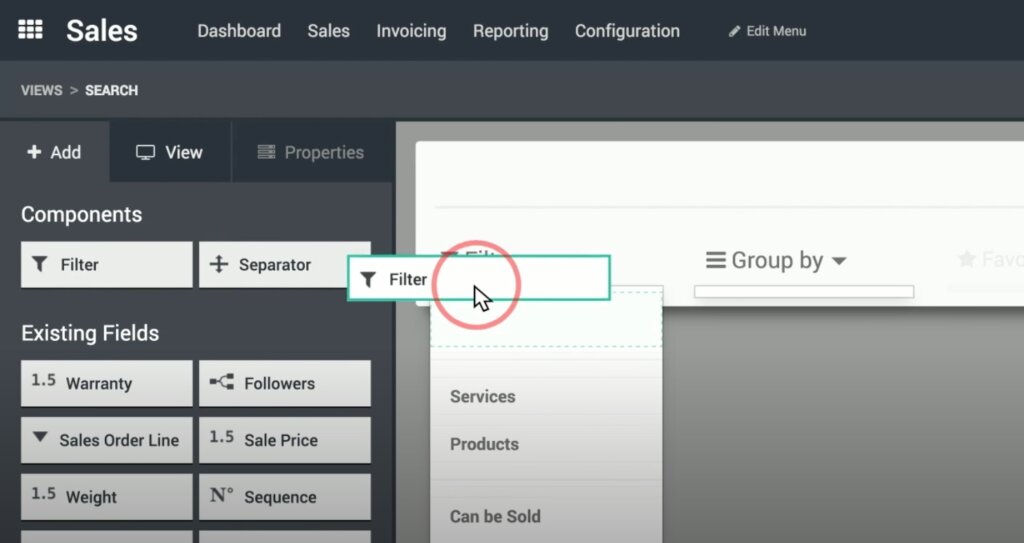 Quick decision making
The suite of fully-integrated apps, real-time data access analytics enable your teams to make business decisions faster and easier.
With features like real-time access to business data and analytics, and the ability to easily build Excel-style real-time dashboards and reports, decision-makers in all parts of your company can respond to changes as they happen.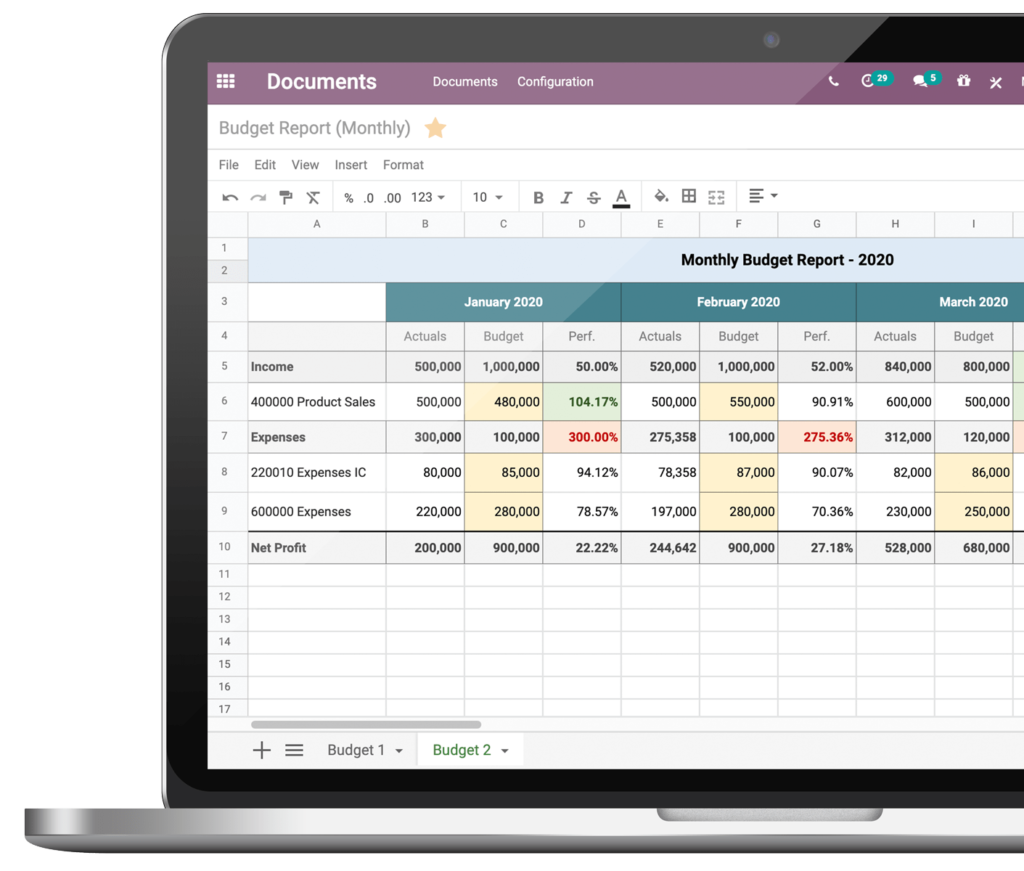 The native tools all live under one roof, and clients love that they have the power to:
Collaborate
Solve problems, and:
Seize opportunities together
And it happens when they're in the office, on the road, or working from home.
It's a game-changer. It unlocks your company's data, making it readily available throughout the integrated suite of products. With the right tools, and the right customizations tailored for your business, teams can make faster, better decisions leading to improved overall productivity.
Improve productivity
Quick decisions aren't the only advantage of using Odoo and its suite of fully-integrated apps. Teams using this platform will be empowered to complete impactful work, faster and easier than ever before.
Whether working in finance, marketing, or human resources, business data is right at your fingertips. Companies suffer due to lost productivity when data is spread out over multiple systems, on different platforms, and often between different teams. Working this way becomes a chore, companies get stuck and they miss opportunities. This solution helps solve this through:
Streamlining: The suite of integrated tools can simplify and streamline your business processes, cutting down the amount of time it takes to get things done.

Automation: Critical, repetitive, and time-consuming functions like inventory management, purchasing, and invoicing can be automated by technology, freeing up teams and allowing them to focus on strategic, growth-focused projects.

Collaboration: Cloud-based services and the ability for teams to access Odoo from mobile devices help critical conversations happen faster, and ensure that important decisions get made sooner.
Flexible for customization
With Odoo ERP, customization is extremely flexible – which can be the last thing companies expect to hear when talking about an ERP solution.
All too commonly, employees come up with cumbersome workarounds for routine tasks. Why? The ERP system they're working with doesn't actually fit the needs of the business.
One of Odoo's biggest benefits for business? Something businesses will love, regardless of their size – customizability, which comes in many flavors.
Small Businesses: Odoo Studio is a tool that empowers smaller companies to build their own customized apps from scratch and within minutes. There is also a 'developer mode' to unlock advanced features.

Medium Businesses: For medium-sized companies, customizing Odoo often means leveraging the power of the Odoo app store and tens of thousands of affordable add-ons that cover just about every business need.
Large Businesses: Enterprise-level Odoo clients rely on the fact that Odoo has a large community of professional integrators like VentorTech to help configure and customize to their specific business needs.
VentorTech specializes in configuring Odoo to meet the specific needs of our clients. Our highly skilled team is able to customize Odoo using its extensive out-of-the-box (OOTB) features. As a result, our Odoo configurations look and feel like they have been completely customized to fit our clients' unique requirements.
For clients requiring additional tools and customization that goes beyond OOTB configuration possibilities, we can help. In these cases, our talented development team is there, building solutions to meet the unique business needs of our clients.

Another reason many enterprise-level businesses love its customizability is that many Odoo integrators specialize in specific industries and markets. VentorTech, for example, has a strong background in sales, purchasing, finance, logistics and warehouse management, accounting, and much more.
Does your Odoo ERP project require complex customization? Tell us more about your project, and one of our integration experts will be in touch
Conclusion
When it comes to Odoo's software, there's a host of enormous benefits that will have a huge impact on your business – regardless of how big, or small.
If you're looking for a complete ERP solution that is first and foremost user-friendly, has a massive user base, and is cost-effective, this is a serious contender.
Our clients also love that it:
Enables them to make better decisions, and faster
Improves the productivity of their teams – meaning projects are actually completed
Scales with them as they grow
Plus, they're delighted to find out it's customizable, regardless of whether they're a small, medium, or large business.
Want to learn about how and why Odoo ERP could be the right fit for your business? Contact us today. One of our integration experts will be happy to talk about its core features, as well as the features that would be valuable to your business specifically.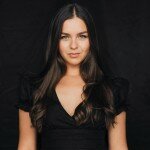 ----------------------------------------------------------------------
Education: Bachelor's degree.
----------------------------------------------------------------------
Experience:
Marketing manager
VentorTech
Digital marketer
ElateSoftware
Marketer
Interhash Trade
Community Manager, Digital Marketer
Cryptocode
----------------------------------------------------------------------
Current position: Marketing manager VentorTech
----------------------------------------------------------------------
B2B Social Media Marketing
Google AdWords - advertising
Google
Google Tag Manager and GA
Launch and promotion of a YouTube channel
YouTube for business and personal brand
Video Production