In this article, we will explain the differences between Odoo Community and Enterprise editions, what they have in common and which version will best fit your needs .
You will learn:
Is Odoo Enterprise worth it?
Which Odoo Enterprise apps are useless
What's new in Odoo v17
The truth about Odoo's support
Valuable insights and advice from an experienced Odoo partner
What Odoo Community and Enterprise have in common?
Odoo Community is the core of Odoo Enterprise. Odoo Enterprise is a licensed business management software encompassing all the functionalities of Odoo Community, complemented by proprietary applications. Therefore, all the features within Odoo Enterprise have their roots in Odoo Community.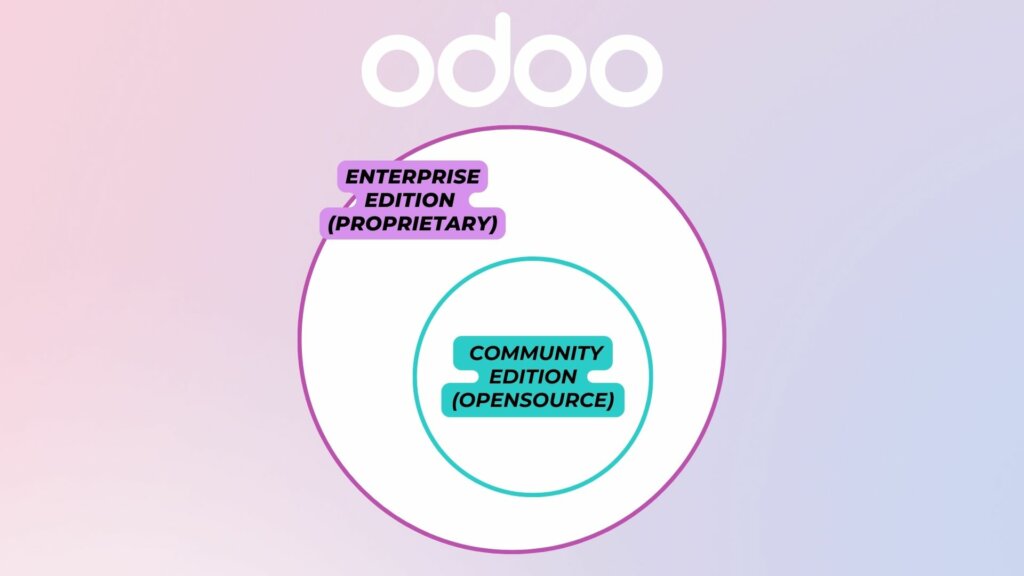 Since Odoo Community serves as the foundation for Odoo Enterprise, they share the same database, core applications, and fundamental functionalities.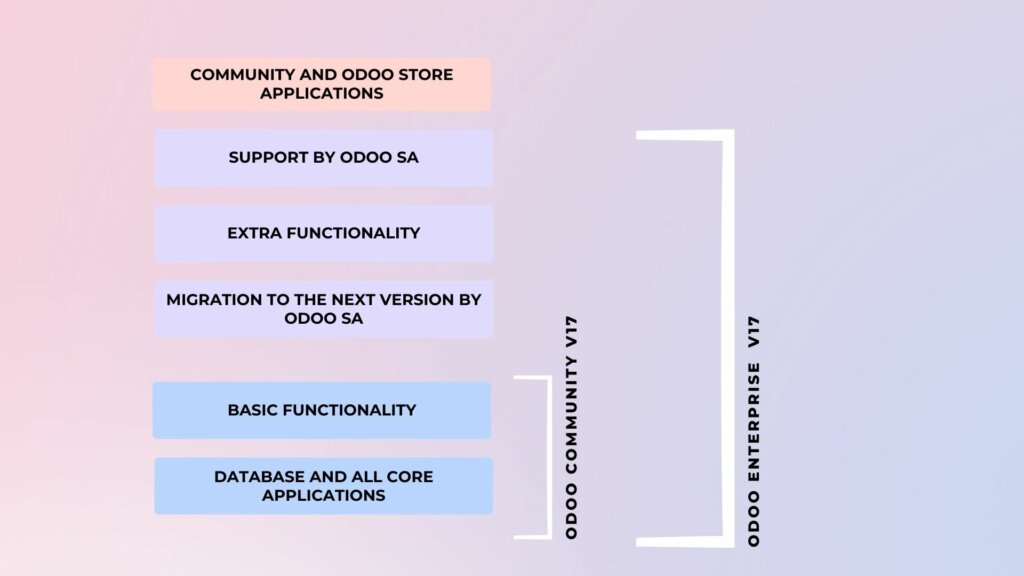 The structure of Odoo Community and Enterprise
Required hardware (local server)
There are no special hardware requirements for Odoo Enterprise.
Odoo provides some sample configurations in their documentation, but based on our experience, we are confident that each case is unique.
Odoo ERP can operate on relatively modest hardware, which is a compelling reason to maintain cost-effective infrastructure. On the other hand, some of our larger customers prefer robust (and expensive) hardware setups. What works out best depends on the specific requirements and approach. We cannot generalize about server configurations based on the number of Odoo users. This parameter doesn't precisely indicate required computing power.
Read more about Odoo hardware requirements and Odoo monitoring:
How to set up monitoring for your Odoo instance
Scalability
Following the Hardware abstract, Odoo can be scaled up for companies of almost any size. We have done this for 2K+ and global companies with huge geographical distribution. Proper infrastructure provider selection, applications load balancing, and database replication can do magic with this open-source ERP
Flexibility
Odoo is the most scalable business application in the world for two good reasons:
Open source
Modular structure: All functions can be customized via modules and database configuration
"If your company changes fast and experiments with processes, then Odoo should fit perfectly well."

Oleg Yaschenia, System Analyst at VentorTech
Community and Odoo Store Apps
Odoo has a large community with over 20,000 people worldwide who help make Odoo successful. More than 41,000 apps are available in the Odoo Apps Store. Some of these apps are free (about 45%), while others require payment (about 55%).
You can install both community-developed apps and apps from the Odoo App Store to both the Community and Enterprise editions of Odoo. However, please be aware that you cannot add third-party apps to Odoo Online.
Access rights configuration
There are no distinctions in access rights for Odoo Community and Enterprise. Both versions feature standard access rights with rules suitable for small and medium-sized companies. However, a company with a complex organizational structure may find the basic access rights functionality insufficient. In such cases, you should be prepared for additional configurations in both the Community Edition and the Enterprise Edition.
Key differences between Odoo 17 Community and Enterprise
ODOO COMMUNITY
ODOO ENTERPRISE
Open-Source – Free
Odoo Community is a no-cost, open-source business management software offering users essential business management features, including sales management, invoice management, and inventory management.

Licensed – Paid
Odoo Enterprise is a licensed edition of business management software that encompasses all the functionalities of Odoo Community, along with additional applications. It provides access to advanced features crucial for business operations, boasts a user-friendly interface with speedy navigation, and includes support from Odoo SA.
Non-Responsive Desktop Interface

Note, there are unofficial mobile apps that support Odoo Community (e.g., Ventor or Odoo CRM)
User-friendly interface, mobile apps, and swift navigation



Own Server Hosting

On-premise; can be deployed on your own or third-party hosting provider only. Server architecture management is completely on the customer's side.
Multiple Hosting Options
(Cloud and own server solutions)
– *Odoo Online is SaaS (Software as a Service). In a few seconds, and a couple of clicks, your cloud instance will be ready to use anywhere and anytime. It even comes with a pre-configured email server.
– Odoo.sh is a PaaS (Platform as a Service) managed by Odoo SA. Odoo.sh allows you to deploy your own cloud platform in a couple of clicks. It also comes with an email server.
– On-premise; can be deployed on your own server.

* With this option, you cannot install any free/paid apps and are limited only to Odoo standard functionality

Standard Odoo Modules

Finances:
– Invoicing
– Expenses
Sales:
– CRM
– Sales
– POS
Websites:
– Website builder
– eCommerce
– Live chat
– Forum
– eLearning
– Blog
Inventory and MRP:
– Inventory
– Manufacturing (MRP, Workcenters)
– Purchase
– Maintenance
Human resources:
– Employee
– Recruitment
– Time off
– Fleet
Marketing:
– Email marketing
– SMS marketing
– Events
– Surveys
Services:
– Project
– Timesheet
Productivity:
– Discuss
– Notes
– Calendar
→ [Standard Odoo] + Additional Odoo Enterprise Modules

Finances:
– Accounting (comprehensive accounting)
– Vendor bill OCR (AI)
– Advanced reporting
– Consolidation
– Localizations
– Payroll (Expense OCR, reimbursement in Payslip)
– Documents (spreadsheets)
– Sign
Sales:
– Subscriptions
– Rental
– Amazon connector
– POS (kitchen display)
Inventory and MRP:
– Inventory (barcodes)
– Manufacturing (control panel, scheduling)
– PLM
– Quality
Human resources:
– Employee (departmental dashboard)
– Referrals
– Appraisals
Marketing:
– Social marketing
– Marketing automation
Services:
– Advanced timesheets 
– Field service
– Helpdesk
– Planning
– Appointments
Productivity:
– Approvals
– VoIP integration
– IoT
Customizations:
– Odoo Studio
Standard Odoo features
Contains the general features necessary for basic business.
Advanced features and add-ons
Enhanced functionalities within current modules, including integrations with carriers, banks, VoIP, and more.
No official support
All support is based on Community information
Support from your Odoo partner

* Support from Odoo SA
– Unlimited support by email 24/5
– Video tutorials, guidelines, product documentation, etc.
– Answers to issues that you may encounter in your standard Odoo database
– Questions related to your account, subscription, or billing bug resolution (blocking issues or unexpected behavior not due to misconfiguration or customization)
– Issues that might occur in a test database after upgrading to a newer version

* This is what Odoo SA declares, but we have seen many complaints about Odoo's support. We recommend checking if this has changed if you are going to buy a subscription.
Best for start-ups and small businesses
It is available for free
Set up the system from scratch
Advanced technical knowledge required
Available for free on personal servers
Not adaptable for use on mobile devices
In most cases, many improvements and additional developments are required (i.e., customizations are required)
Best for medium and large companies
Hosted on a local server or in the cloud, available anywhere and accessible from any device
It includes Odoo Online, Odoo.sh, Odoo on-premise to meet the needs of small and medium businesses.
Adapted for mobile devices (iOS, Android)
A paid edition providing great features and applications that the Community Edition cannot
Implement accounting, manufacturing, project management, and inventory management functions on an advanced level
Unlimited access to all Enterprise apps after subscription (per-user-based pricing model)

More about Odoo pricing

Confused on which Odoo version to choose, Community or Enterprise?
Advanced features of Odoo v17 Enterprise
Now let's review the most important features of Odoo Enterprise and try to conclude whether or not it's worth it.
Financial Management in Odoo v17
What is one of the most important aspects of a business? Of course, it is finances. Since we know that all the features of Odoo community are inherent in Odoo Enterprise, we will consider only those features that are not in Odoo community. Odoo Community has an invoicing app, Odoo Enterprise has a full-featured Accounting app.
Odoo Invoicing is a standalone invoicing app to create invoices, send them to your customers, and manage payments. Odoo Accounting is a full-featured accounting app. Accountant productivity is at the core of its development with features such as AI-powered invoice recognition, synchronization with your bank accounts, smart matching suggestions, etc.

Let's start comparing with examples.
Accounting
First and most important feature: comprehensive accounting. This provides full-fledged functionality for working with journal entries using charts of accounts (COA). With this app, you will have the ability to do an initial import of COA, setup default list of COA, run stock valuation accounts, and other advanced functionalities:
Bank Integrations (Plaid, Yodlee, Saltedge and other Connectors) provides the ability to connect your bank accounts with Odoo (e.g., get bank statements from your bank and import them through connectors).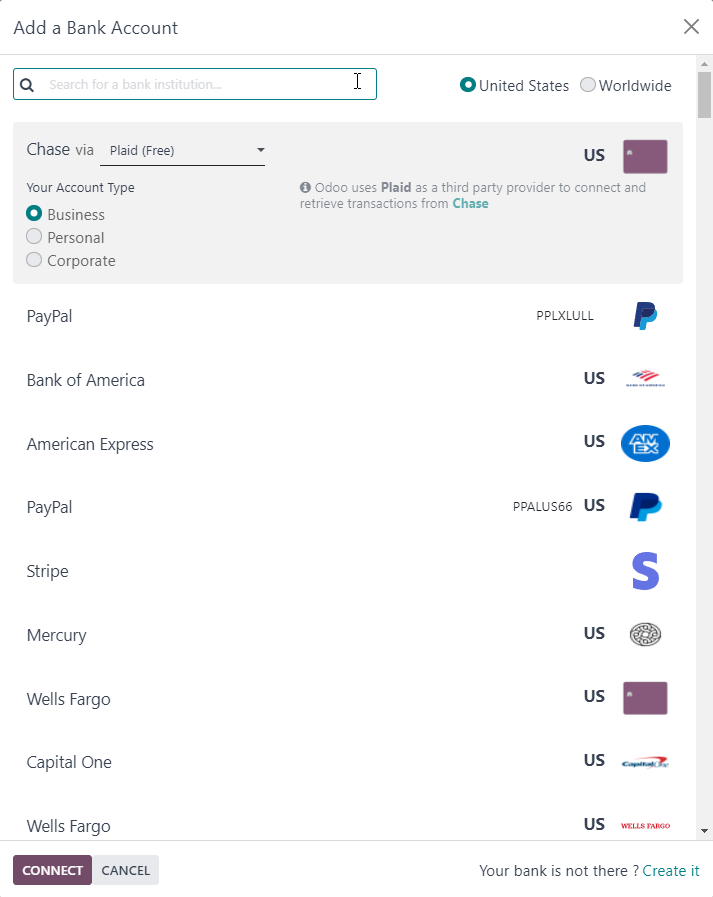 Import your bank statement in CSV, XLS, XLSX, OFX, QIF, or CAMT file formats

Keep track of taxes (TaxCloud and AvaTax integrations) and have the ability to set up Fiscal Periods.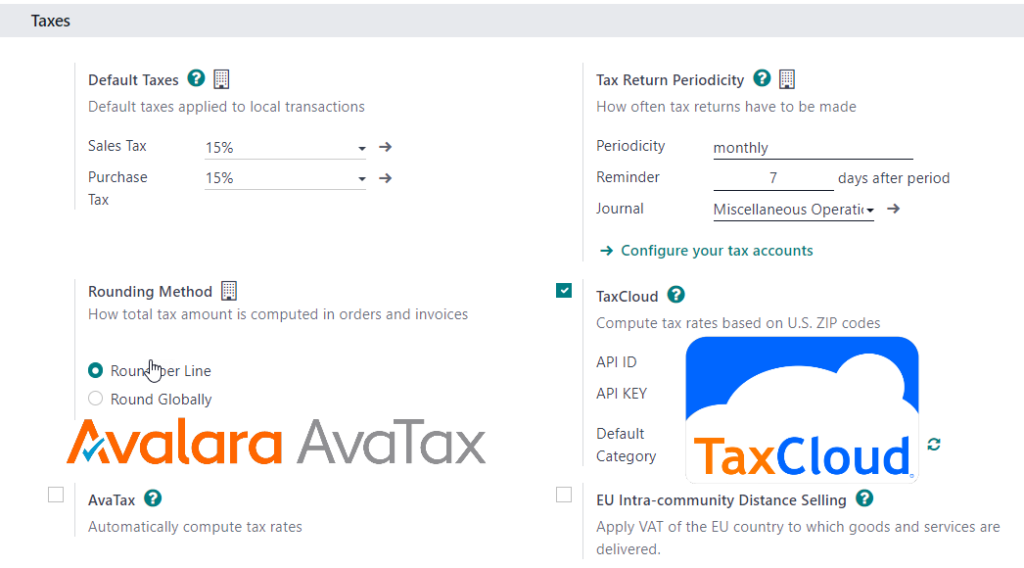 Analytics (Budget Management and Analytic Accounting). Budget management includes the ability to plan a budget based on current expenses and incomes (according to the project using an analytic account).
Analytic Plans and Accounts help you track costs and revenues, along with analyzing the profitability of a project or service. When creating your journal entries, the analytic widget allows the distribution of costs in one or more analytic accounts.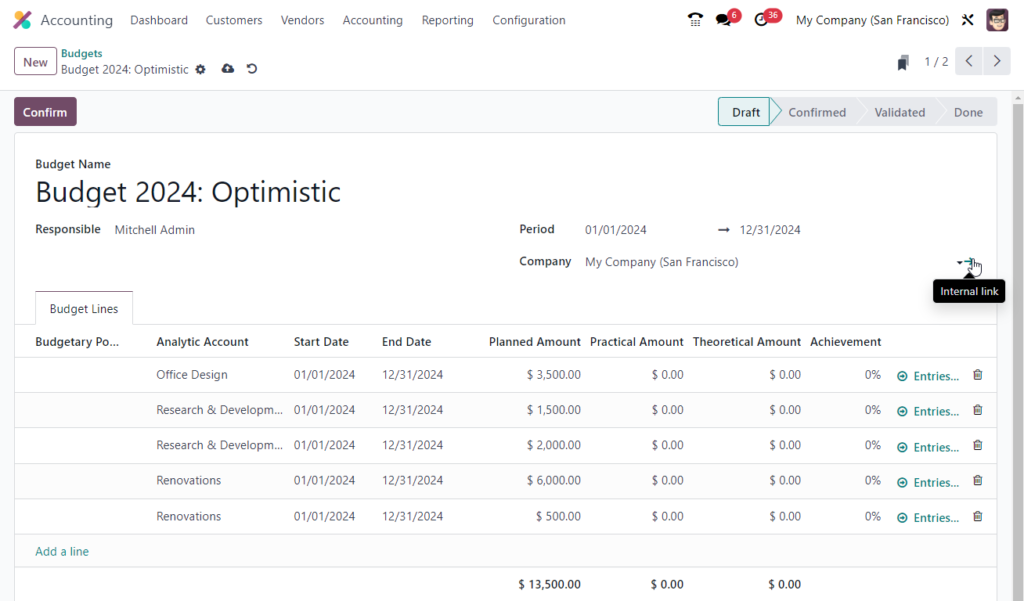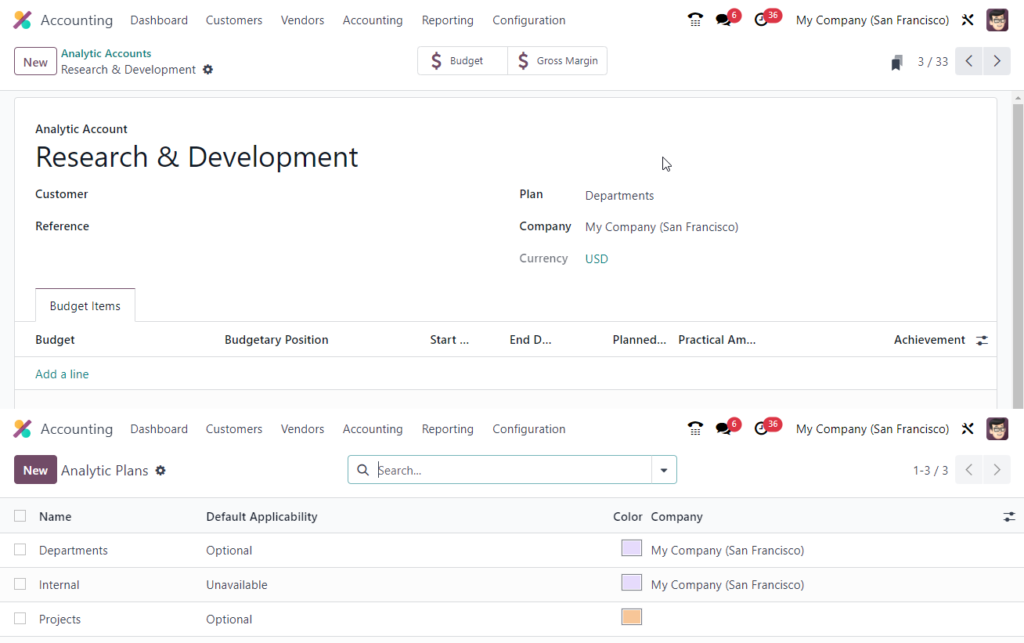 Assets Management (Asset Depreciation, Asset Models – automatic assets creation)
Non-current assets, also known as long-term assets, are investments expected to be realized after one year. They are capitalized rather than being expensed and appear on the company's balance sheet. Depending on their nature, they may undergo depreciation.
Fixed assets are a type of non-current assets and include the properties bought for their productive aspects, such as buildings, vehicles, equipment, land, and software.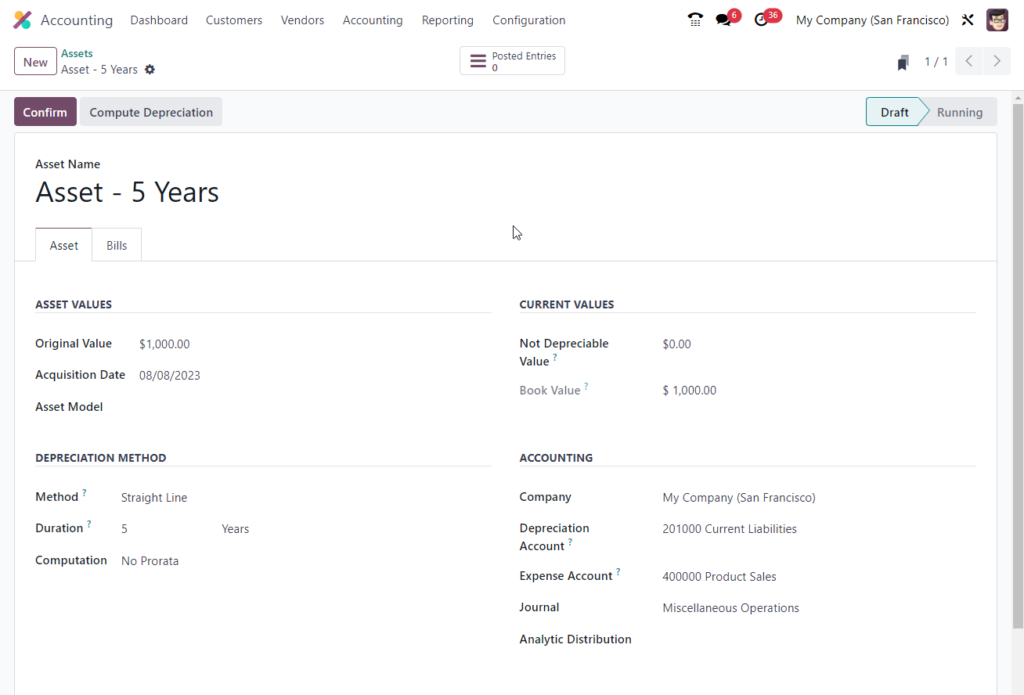 Lock Dates allows the user to lock specific journal entries or lock all journal entries before a specific date.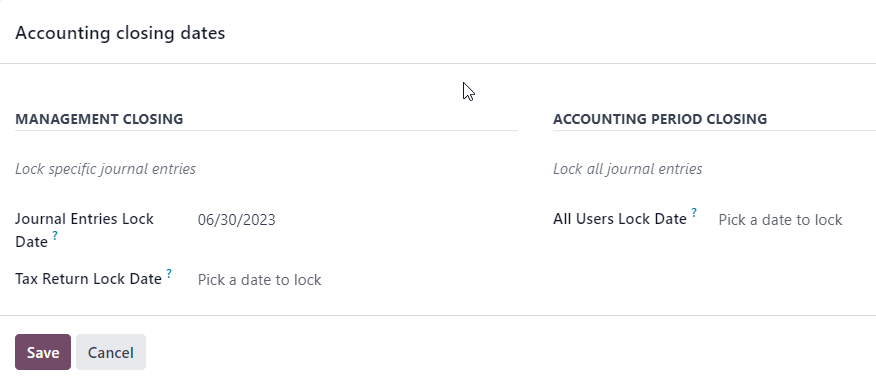 Payment follow-up management (automate emails for unpaid invoices) is a useful tool for notifying customers of late payments. Odoo helps you identify late payments and allows you to schedule and send the appropriate reminders using follow-up actions that automatically trigger one or more actions according to the number of overdue days. You can send your follow-ups via different means, such as email, post, or SMS.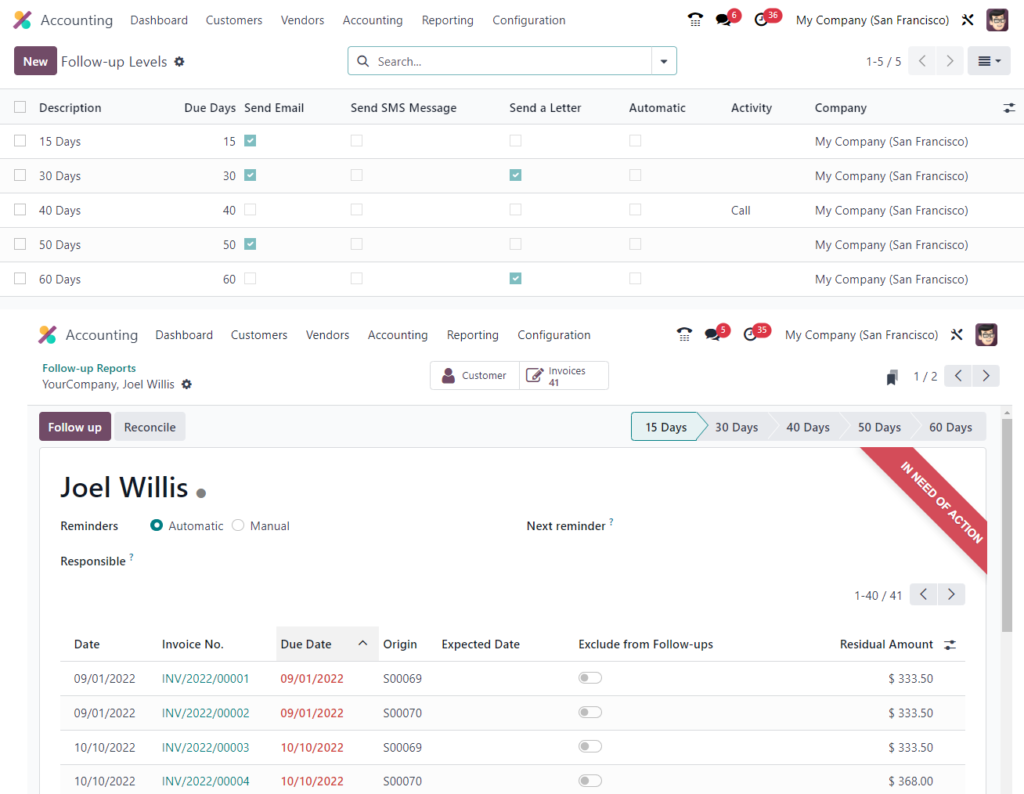 SEPA payments and Checks Vendor Payments: Customers can make cashless Euro payments – via credit transfer and direct debit – to anywhere in the European Union, as well as to many non-EU countries, in a fast, safe, and efficient way, just like national payments.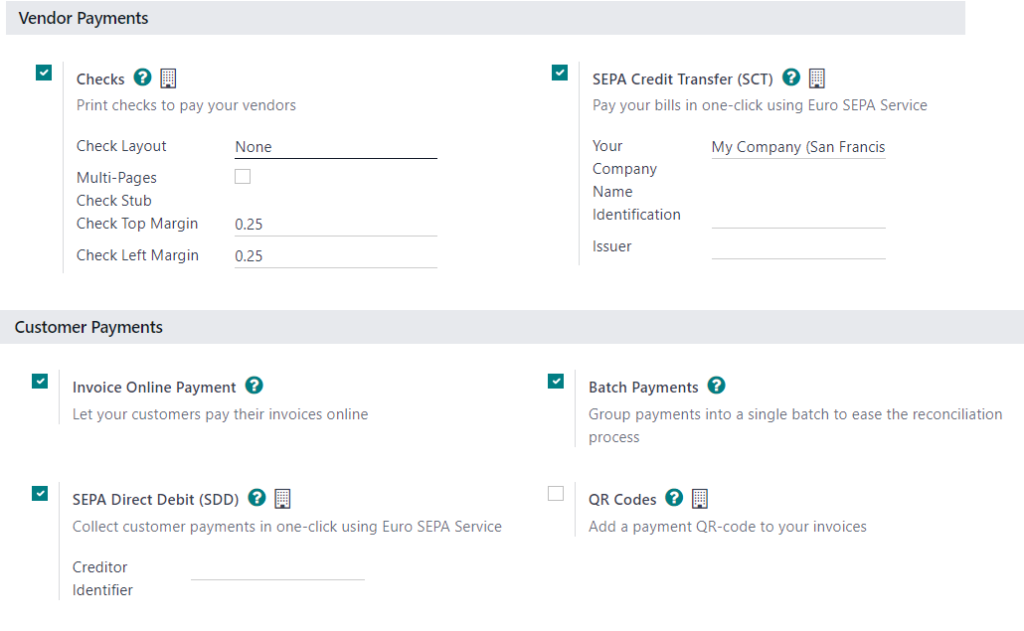 Batch Payments allows users to group payments in batches (for example, if the group received checks before you deposit them to the bank). A company grouping different payments to ease reconciliation is using the batch payments. The batch payments are also useful for depositing checks to the banks. Accounting module Odoo 17 can manage and create batch payments for the customers and vendors. In Odoo 17 Accounting module, you can manage and create batch payments of the customers and vendors. With the help of selecting Batch Payments from the Customers tab, you can view the list of batch payments to see details such as the Reference name of the bank and date, amount, and state. In the same way, batch payments can be viewed from the Vendors tab.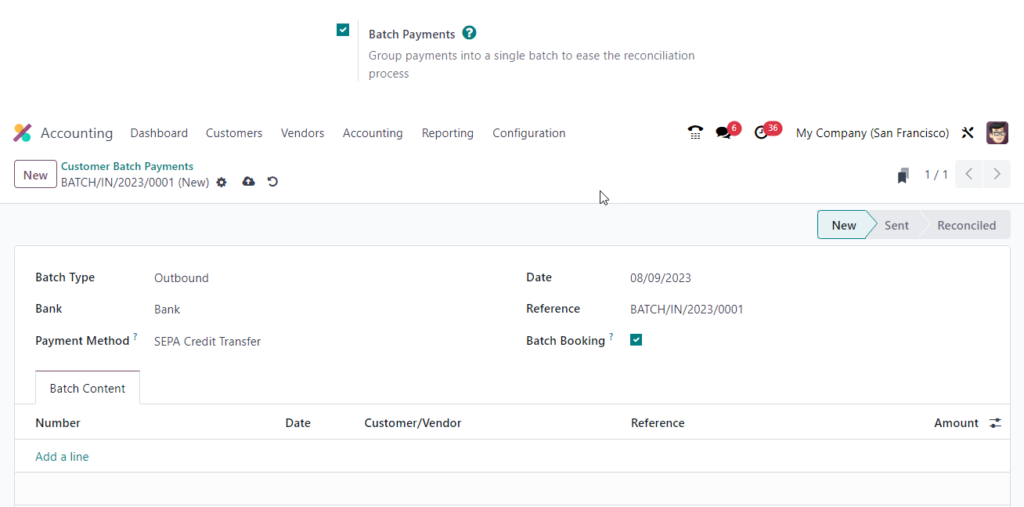 Dynamic Accounting Reports (advanced reporting):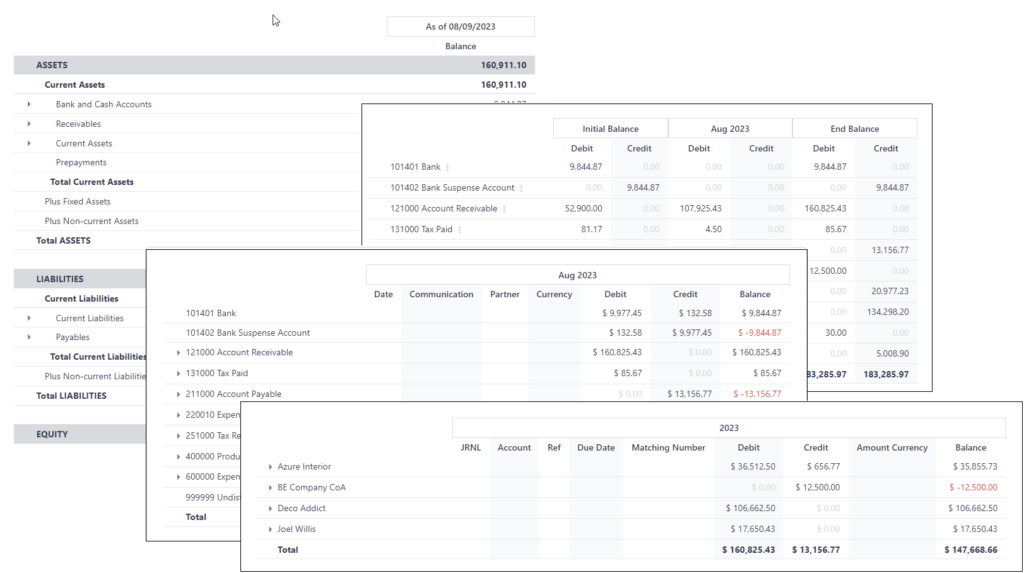 Statement Reports:

Balance Sheet
Profit and Loss
Cash Flow Statement
Executive Summary
Tax Report
EC Sales List

Audit Reports:

General Ledger
Trial Balance
Journal Report
Intrastat Report
Check Register

Partner Reports:

Partner Ledger
Aged Receivable
Aged Payable

Management:

Unrealized Currency Gains/Losses
Deferred Expense
Deferred Revenue
Depreciation Schedule
Disallowed Expenses
Budget Analysis
Product Margin
1099 Report

Specific Localization Reports
Vendor Bill OCR(AI) or Digitalization
This Smart feature allows to recognize Vendor Invoices (i.e., bills) based on PDF or scanned documents with OCR and AI (paid feature; starts at $0.10 per document https://iap.odoo.com/iap/in-app-services/259?).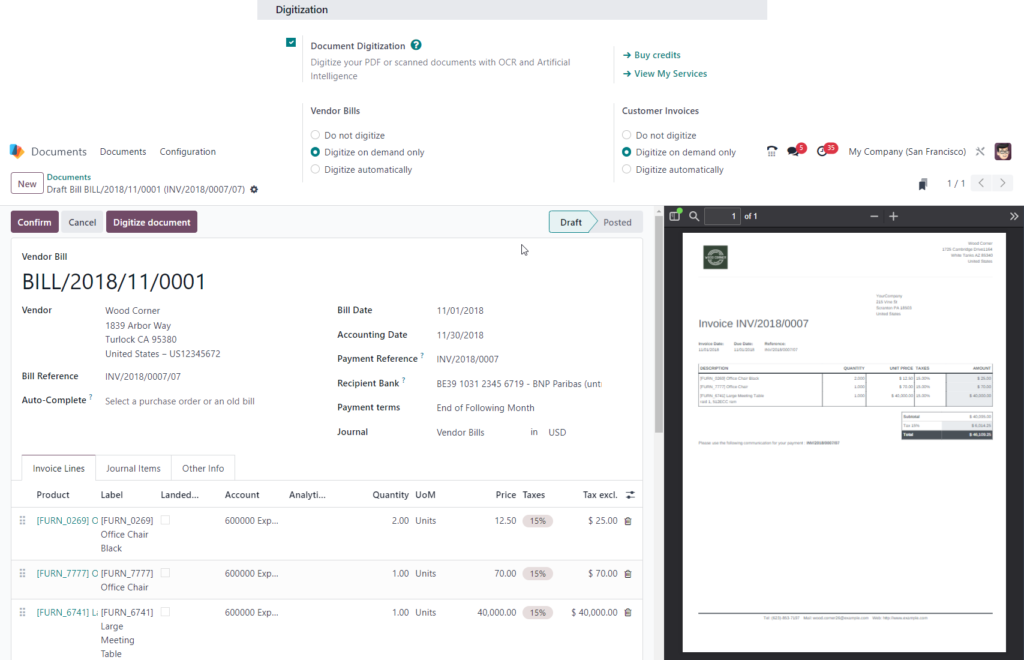 Consolidation
A new special app in Odoo v17 Enterprise.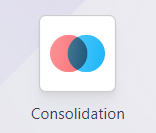 Consolidation, in accounting, is the process of combining several elements into a single entity. This is a complex process, because it requires special attention during the merge. Previously, consolidation processes were performed manually, which could lead to confusion and errors. The consolidation process can now be done more efficiently with Odoo's consolidation modules, but it is also time consuming. Accounting consolidation, more specifically, is the process of bringing together the financial accounts reported by subsidiaries of a parent company, including assets, liabilities, and other related financial items.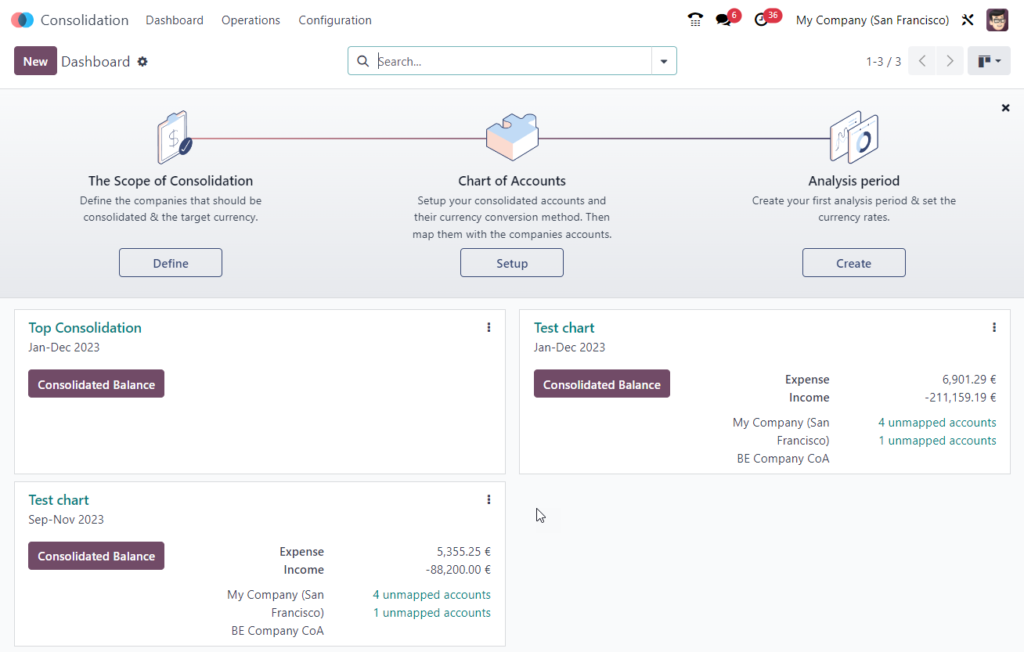 Localizations
These aspects include fiscal positions, payroll, and specific reports per specific country. The localization module corresponding to the country code of the company is installed automatically. In case of no country code set or no localization module found, the US localization module is installed by default.
Odoo has localizations for many countries, but if there is no localization for your country, then Odoo can be configured easily by importing basic data, such as Chart of Account, Journals, Taxes, and so on. However, to set up accounting correctly, you will need to consult with accounting specialists in your region.
Companies continuing to use a local accounting software and Odoo for all the rest is a common approach. Synchronization is provided by an Odoo accounting software connector (e.g., Odoo – QuickBooks connector).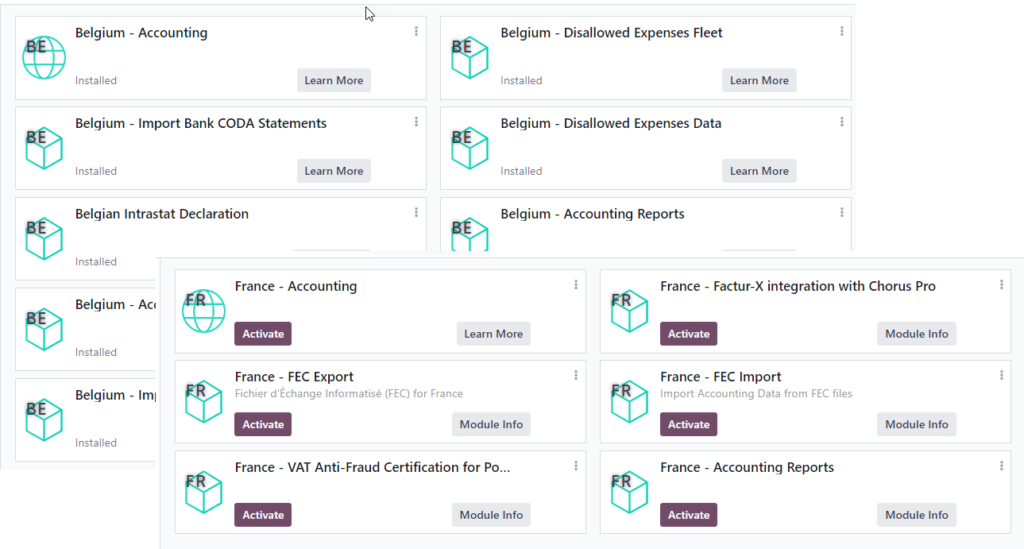 Payroll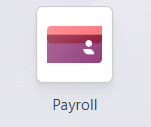 Expense OCR, Reimbursement in Payslips: Functionality includes generating payslips for all employees based on timesheets (worktime) and various salary rules. How to setup payroll: https://www.odoo.com/documentation/16.0/applications/hr/payroll/configuration.html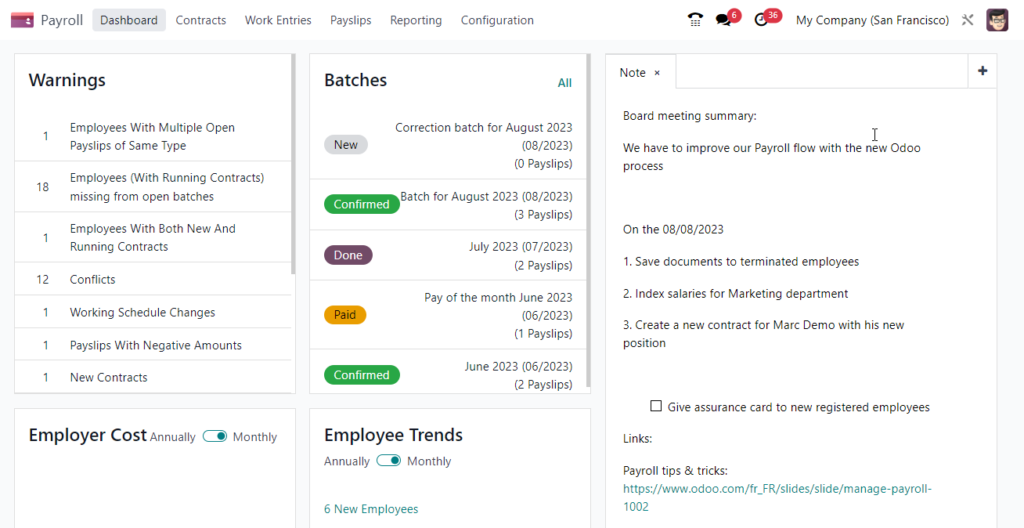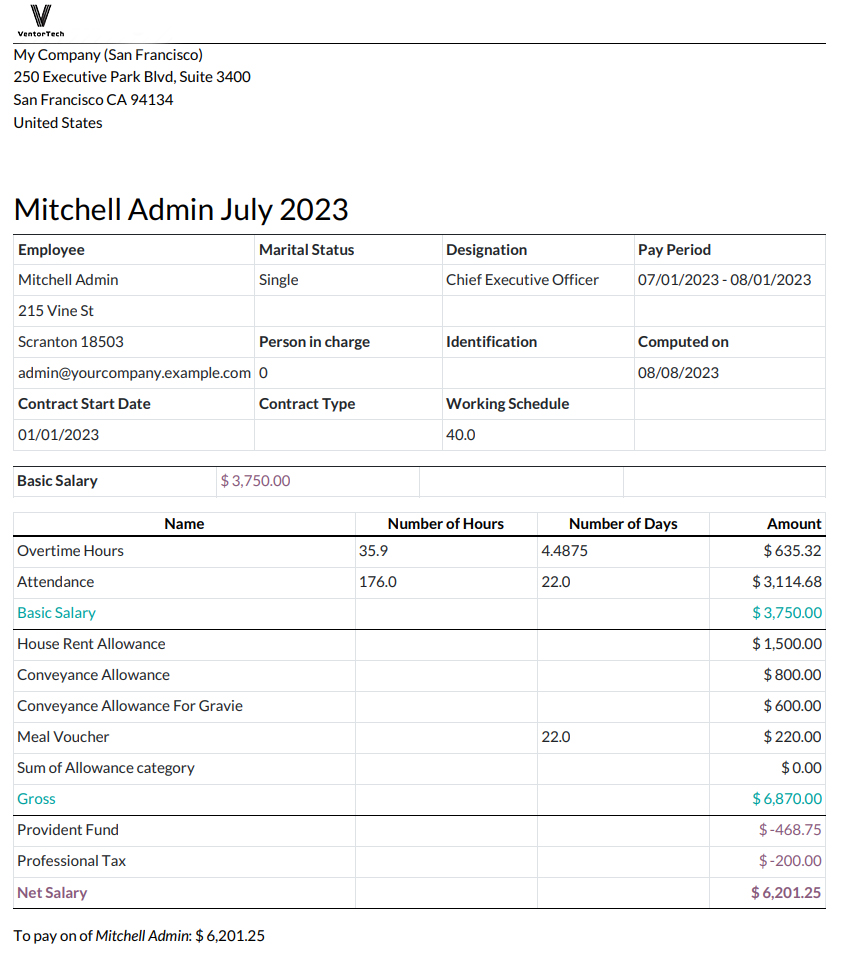 Documents

Spreadsheets gives users the ability to relate accounting documents (files) with Odoo Invoices, Credit Notes, Vendor Bills, and Refunds. Generate new invoices based on files with digitalization; using Odoo spreadsheets allows to edit xlsx and xls files (MS Excel, Google Sheets) and create dynamic reports internally in the uploaded files.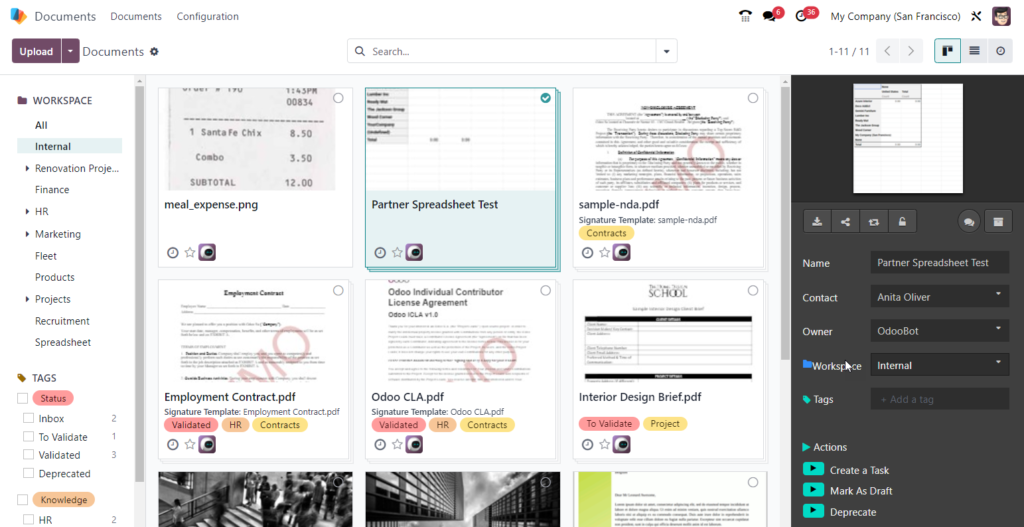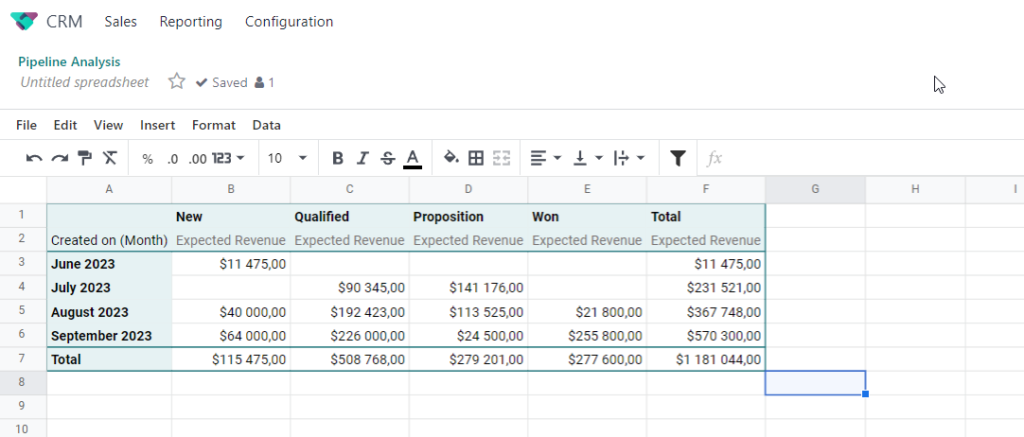 Sign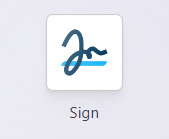 Allows you to send, sign, and approve documents online, using electronic signatures. An electronic signature shows a person's agreement to the content of a document. Just like a handwritten signature, the electronic one represents a legally binding signatured agreement to the terms of the signed document.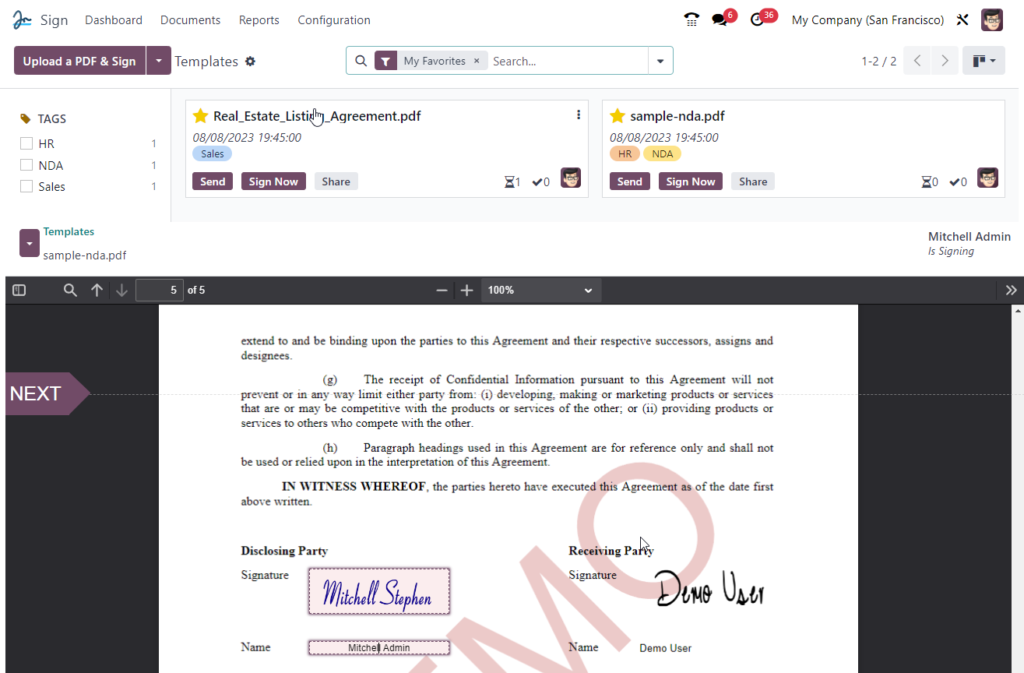 Conclusion about financial management in Odoo v17
Odoo 17 Community does not provide accounting in general, so if your company needs to maintain full-fledged accounting in the ERP system and relate all your operations with accounting entries, then you should definitely consider using Odoo Enterprise. Odoo Enterprise will allow you to have complete reporting on your company's balance sheet and will also provide additional useful features that will improve the work of your accounting department and allow you to conduct in-depth analysis of your business's profitability.
Each company needs financial statements. Odoo Enterprise provides the following reports: general ledger, partner ledger, balance sheet, tax report and more than 20 other statements/partner/audit/management reports, plus special reports for specific localization.
Banking integrations, importing of bank statements, and batch payments greatly simplify an accountant's work.
Digitalization allows you to create invoices in a few clicks without manual creation; despite the fact that this function is paid separately (near $0.10 per document), the price is quite low compared to other popular document recognition services like OCR systems from Rossum, Onilizer, Adobe Reader, ABBYY FineReader, and Nanonets.
Other apps like Documents, Sign allow you to store documents and manage your scanned documents in the system. Spreadsheets will replace Excel and help your team create exclusive reports, which will be updates based on the information in your Odoo database.
Want to manage your company finances in Odoo?
Sales Management in Odoo v17 Enterprise
Carrier Integrations
Odoo Enterprise can be linked with the transportation company tracking system, allowing you to manage the transport company, the real prices, and the destination. This feature allows users to receive real shipping costs for sales orders (based on accounts with personal discounts) along with receiving shipping labels and tracking numbers directly in Odoo.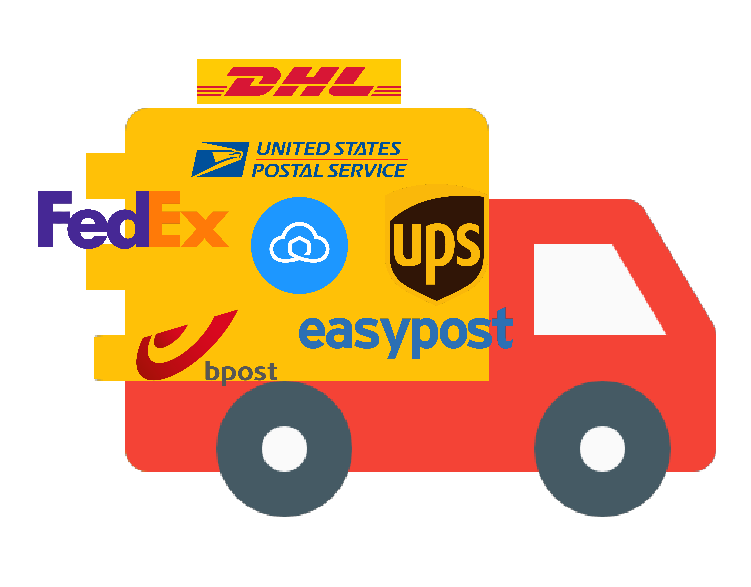 Carriers integrated in Odoo v17 Enterprise:
DHL Express
USPS
UPS
FedEx
bpost
Easypost
Sendcloud
Shiprocket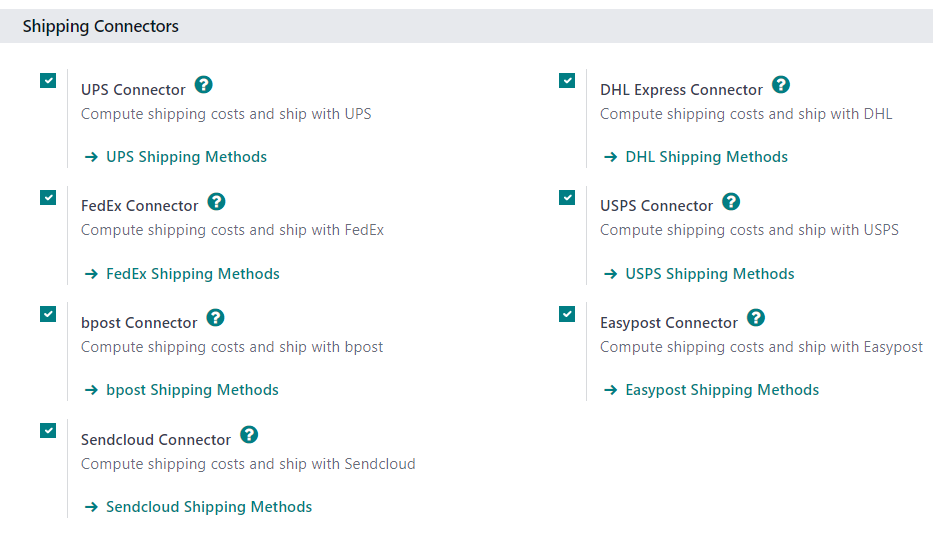 Amazon Connector
Odoo Enterprise has a basic connector with Amazon, which allows for importing Amazon orders and syncing deliveries.

The connector is able to:
Synchronize (Amazon to Odoo) all confirmed orders (both FBA and FBM) and their order items that include:

the product's name, description, and quantity
the shipping costs for the product
the gift wrapping charges

Create on Odoo any missing partner related to an order (contact types supported: contact and delivery).
Notify Amazon of a shipping confirmed on Odoo (FBM) to get paid.
Synchronize (Odoo to Amazon) all available product quantities (FBM).
Support multiple seller accounts.
Support multiple marketplaces per seller account.
"We've currently tested the default Odoo-Amazon integration and it lacks some critical features."

One of our customers
As seen, the standard Odoo Amazon connector (in Enterprise) is very basic. It may be suitable for a one-person company with no special demands for functionality. While there are ready connectors available on the Odoo App store, our customers are not satisfied with their quality and stability. We are interested in developing a robust connector for Amazon, so please contact us at [email protected] to let us know if this is something that you would also be interested in.
eBay Connector
While the standard Odoo eBay connector has limited functionality, it is sufficient for small businesses to sell on eBay.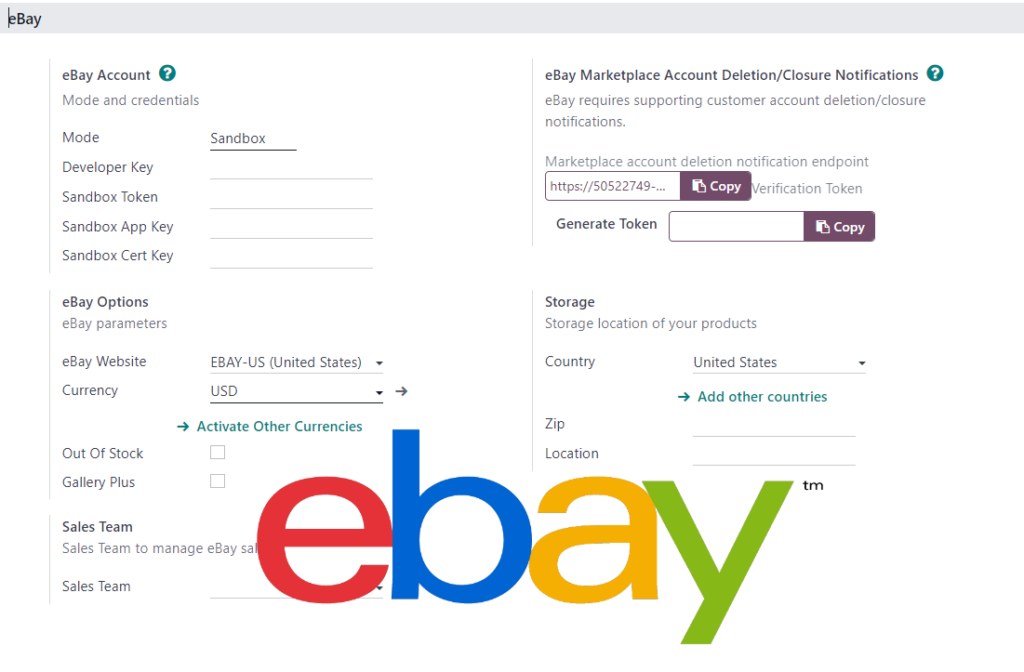 Subscriptions

Subscriptions are used to run recurring businesses: sell new contracts, upsell customers, keep the churn under control, and generate reports on the main KPIs: MRR, ARR, retention, churn, etc.
Main features:
Subscription products
Use subscriptions in the eCommerce shop
Subscription plans
Upsell a subscription
Renew a subscription
Close a subscription
Automatic alerts
Reports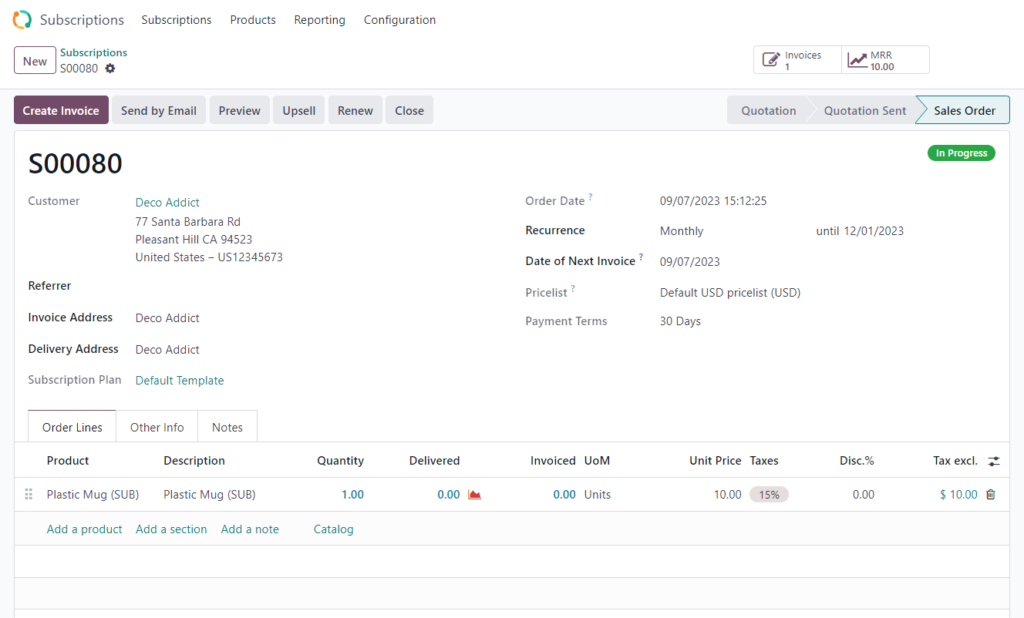 Rental
This function is a comprehensive solution to manage your rentals. From a single view, you can send out quotations, confirm orders, schedule rentals, register when products are picked up and returned, and invoice your customers.

Main features:
Rental pricing
Customer signature
Pickup and return receipt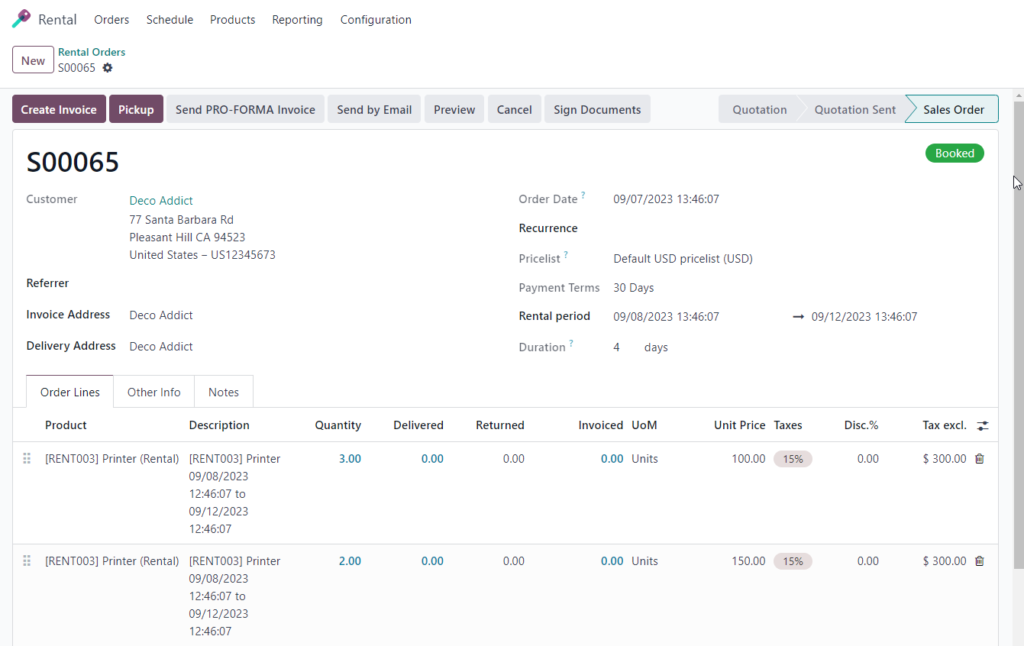 VoIP integration

Odoo VoIP can be set up to work together with OnSIP (www.onsip.com). In that case, the installation and setup of an Asterisk server is not necessary, as the whole infrastructure is hosted and managed by OnSIP. You will need to open an account with OnSIP to use this service. Before doing so, make sure that your area, and the areas you wish to call, are covered by the service. After opening an OnSIP account, follow the configuration procedure below.
Odoo VoIP can be set up to work together with Axivox. In that case, an Asterisk server is not necessary as the infrastructure is hosted and managed by Axivox. To use this service, contact Axivox to open an account. Before doing so, verify that Axivox covers your area and the areas that you wish to call.
POS
For preparation displays or kitchen displays: Improved Point of Sale module for kitchens (as a new feature in Odoo 17 Enterprise). This feature allows users to track the progress of each order and alerts staff when the order is ready to be served. When an order is ready, it is marked as completed on the screen.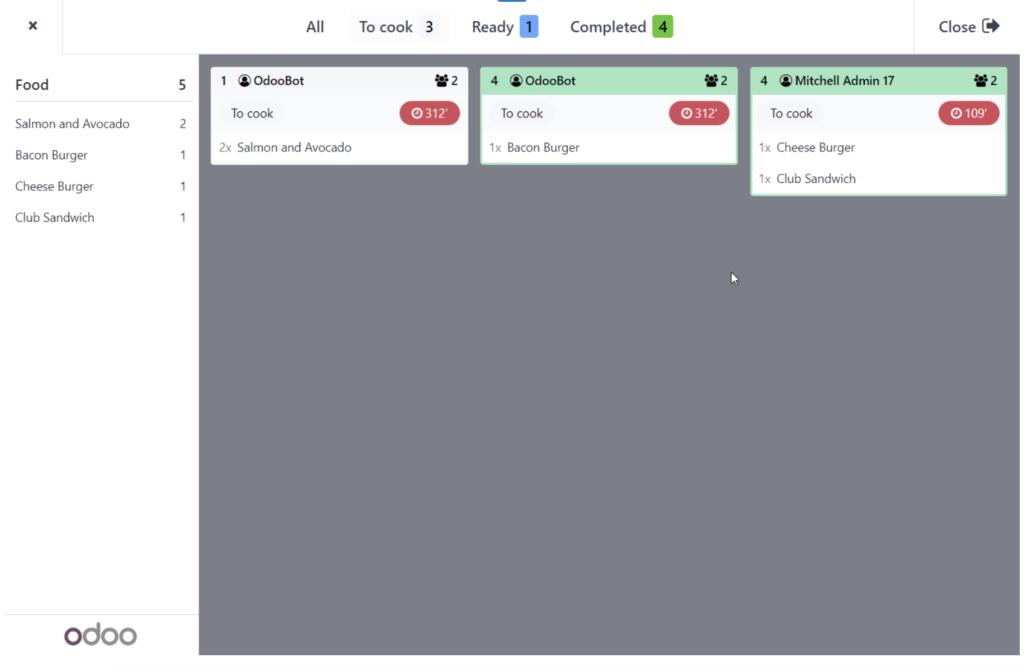 Features:
– Stages can be configured
– Real-time updates (reload of page not needed)
– Multiple teams
– Quick filters
– Touchscreen UI like POS (tablets ready)
– Easy to demo: go to POS/Orders/Preparation Display
Conclusion about sales management in Odoo v17
Sales modules in the Odoo 17 Community have extensive functionality compared to accounting and can be used for many different scenarios. However, Odoo Enterprise offers additional functions that are exceptionally useful to managing medium-to-large businesses (but can also be useful for small businesses).
Carrier integration is the most important feature of Odoo Enterprise Sale modules. If your company uses external delivery companies such as FedEx, UPS, DHL, or others, then integrating with the carrier will improve your deliveries and make your customers happier, because your company will be able to ship packages faster, since the system will generate shipping labels directly in Odoo. The use of additional modules like Odoo Direct Print (separate paid module) will allow you to print all the necessary documents for shipping in one click.
VoiP integration will be very useful for companies in which there is a large and serious sales department that often needs to call and communicate with regular and potential customers. Such integration allows users to control communications and call customers regularly according to planned activities. However, you will not want to make your Community or Enterprise decision on this functionality, because it can be easily replaced by third-party applications.
Rental and Subscription modules can be helpful for specific businesses only.
There are also standard connectors Amazon and eBay, but they are of little functionality. Therefore, if you do not have enough capabilities with standard modules or you require integration with other systems such as Shopify, Magento, Woocommerce, or Prestashop, then most likely you will have to buy third-party connectors from the Odoo App Store.
Migrate from all your marketplaces to Odoo or integrate them with Odoo?
Inventory and MRP in Odoo v17 Enterprise
Inventory (Barcodes)
This is the primary feature in the Inventory app that enables barcode functionality, allowing you to scan barcodes using a barcode scanner. This feature works for warehouse operations (internal, receipt, delivery), inventory adjustments, and batch transfers.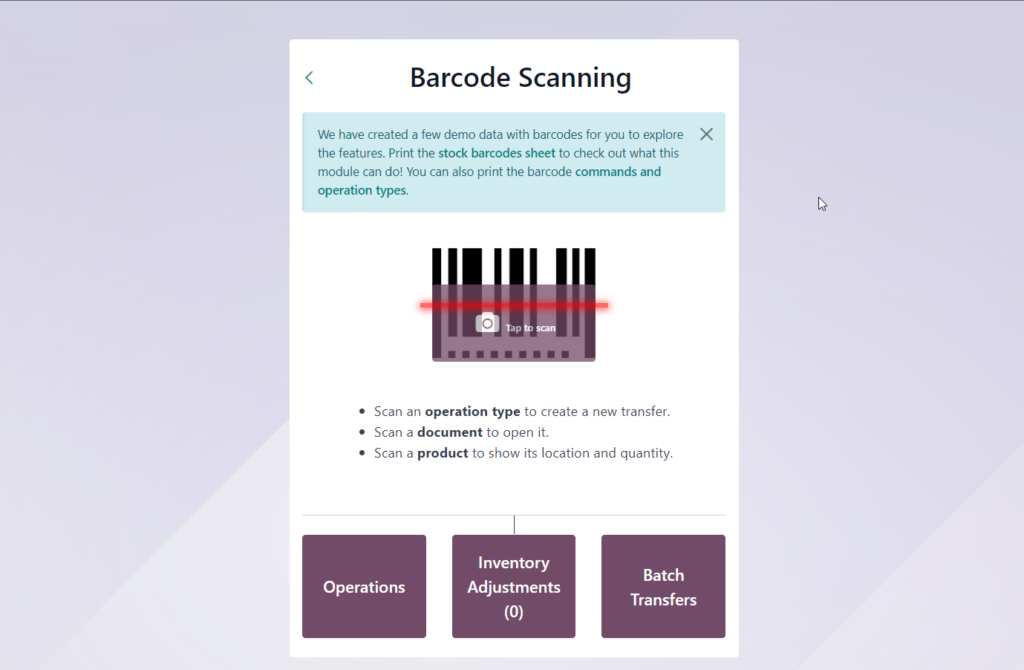 The use of scanners speeds up the work of warehouse workers and reduces the likelihood of errors that are possible during manual data entry. However, there are some UX and functional gaps, which we reviewed in detail in this article: What are the differences between the Ventor app and the Odoo Barcode app?
Manufacturing
Odoo Enterprise offers advanced features for manufacturing process planning and includes a valuable control panel. This control panel provides key information about work centers, overall equipment efficiency (OEE), work center performance, work center statuses, and offers quick access to work order planning by work center.

The work order tablet view is a useful feature that is only available in Odoo Enterprise, improving the interface for easy use of working with work orders through tablets and other portable devices. This is usually especially convenient for production workers, as all main information and features are on one screen.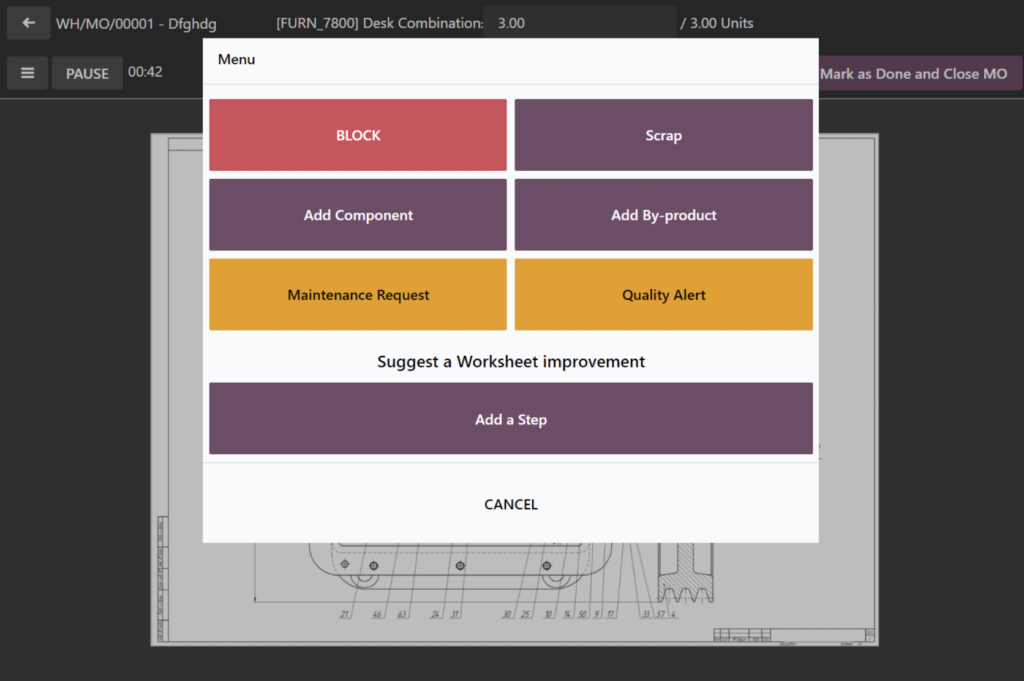 The main of planning features in Odoo v17 Enterprise:
Work Orders Planning. In some cases, companies need to schedule their work orders. In doing so, they can organize work for the whole day and be sure everything goes well. Such planning helps to avoid scheduling multiple work orders at the same time when there is no capacity to do so. With Odoo Enterprise, you can plan the start date for your manufacturing orders. No possible duplication, no potential issues with the planning. And, if you plan two work orders at the same work center, at the same hour, the second one will be scheduled right after the first one, avoiding work superposition.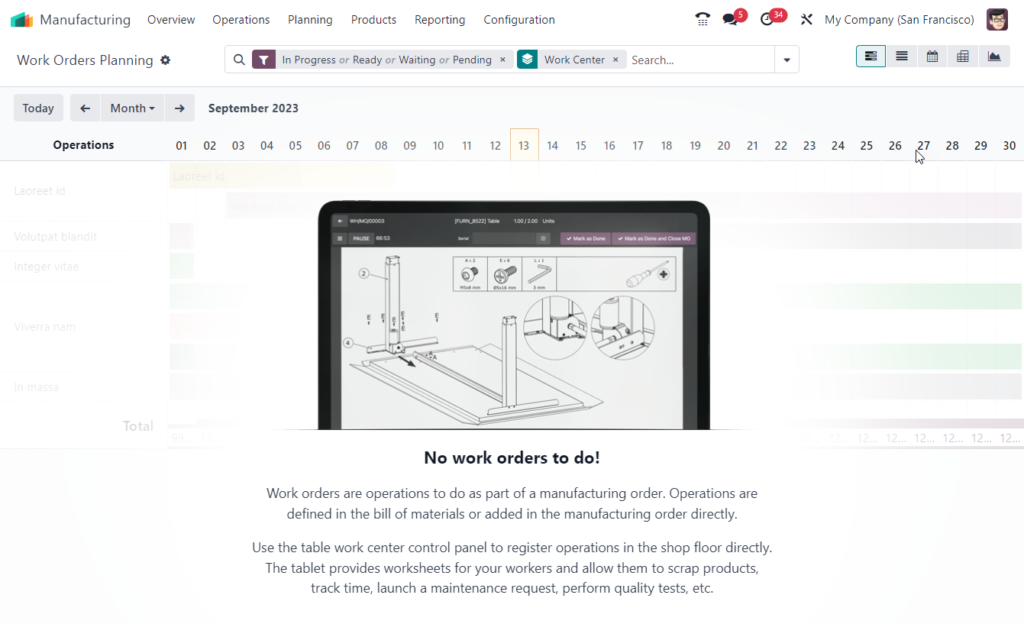 Master Production Schedule (MPS) is a valuable tool to plan your production based on demand forecast. In the MPS view, you can decide which information you would like to display by clicking on rows. For instance, the Actual demand will show you which quantity of products has already been ordered for the period, or Available to Promise, what can still be sold during that same period (what you plan to replenish, what is already sold during the period). You can also decide to hide rows if you like.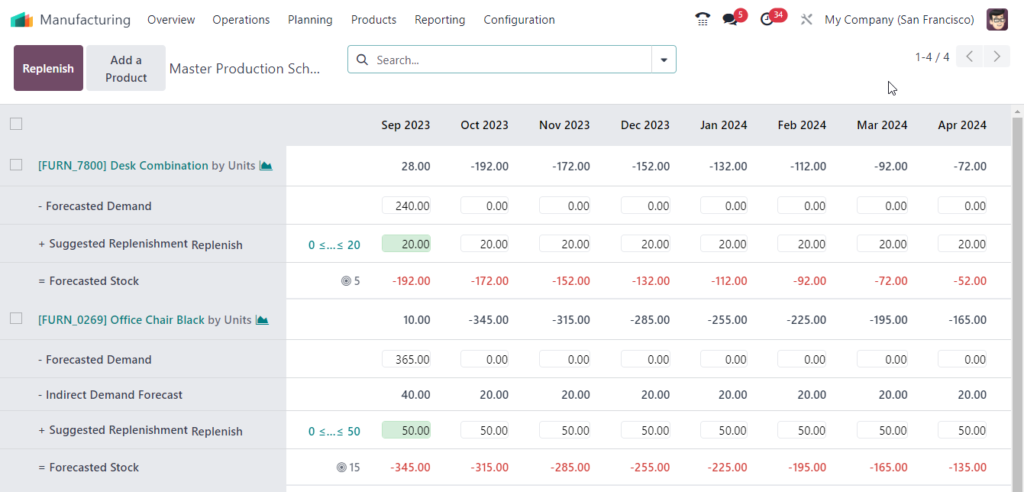 Product Lifecycle Management
PLM plays a vital role in managing product versions within large manufacturing facilities (e.g., managing of engineering changes, product versions, etc.).

For manufacturing companies, managing the product life cycle from production to delivery to disposal is a critical issue. Product lifecycle management provides a solution to effectively managing all product-related information and the work performed at different points in the product life cycle. Recording product-related information in a unified system, manufacturers can access the required version of the product at any time. Based on engineering change orders, the system records the product life cycle and helps you obtain up-to-date reports on products manufacture date.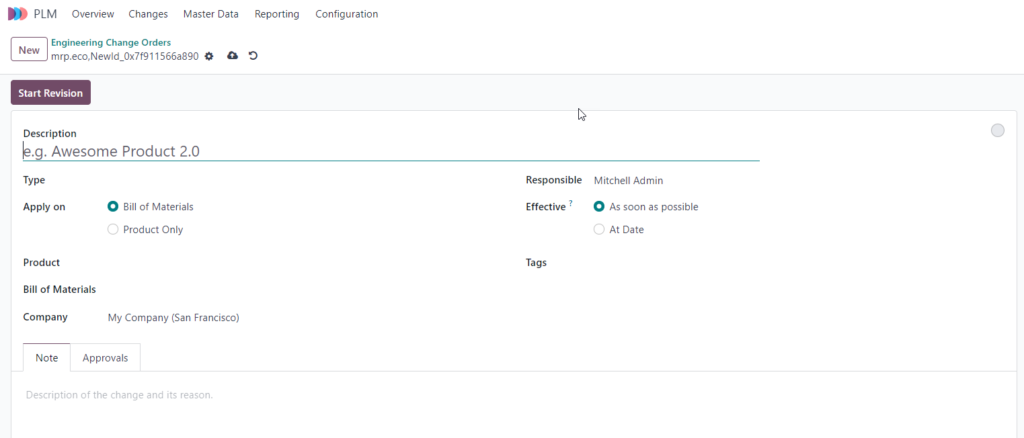 Quality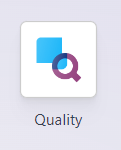 The Quality app enables quality control for products before their registration into stock, during picking operations, and when leaving the warehouse for a delivery order. By creating quality control points, manufacturers can set up quality checks that automatically trigger at specific production points.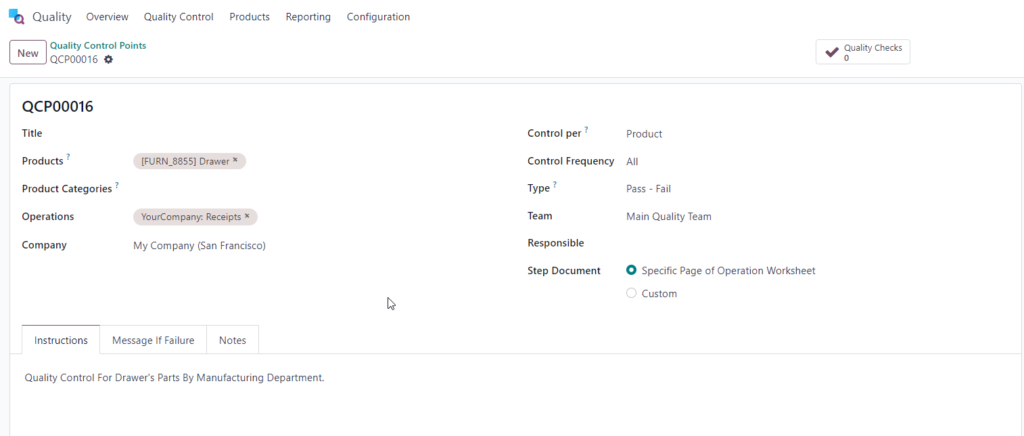 Shop Floor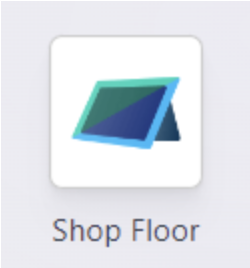 This is a new app to manage the Manufacturing Execution System and allows you to conveniently manage Manufacturing orders on one screen. In some cases, this application can be replaced with the interface of the manufacturer's module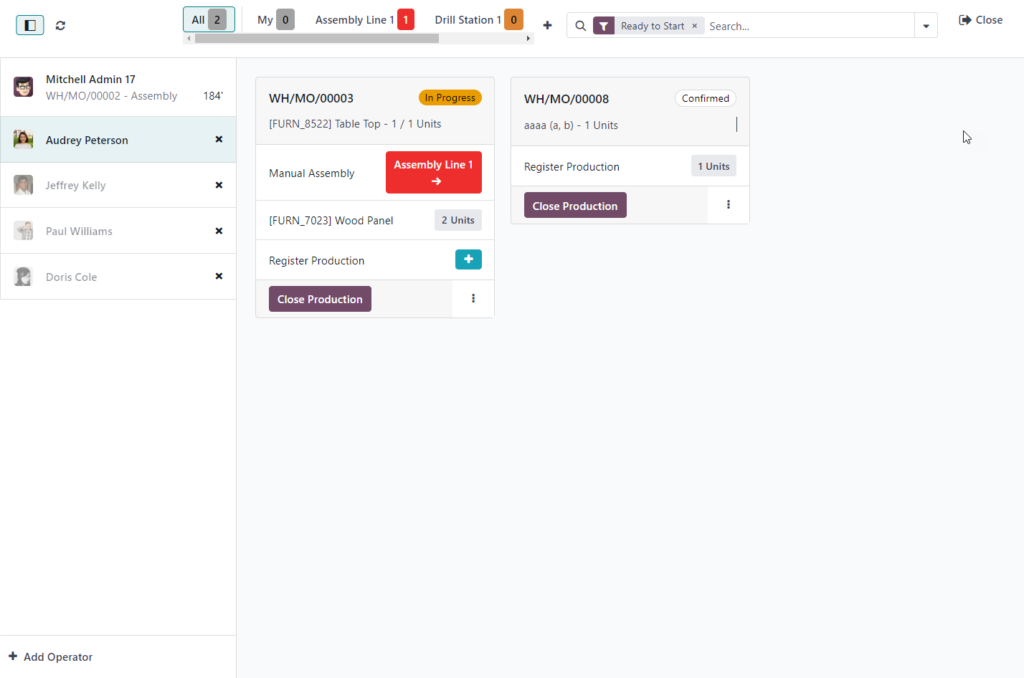 Features:
Managing of manufacturing orders;
Adding new work orders
Moving operations between work centers
Employee time tracking
Adding components
Register production
Access to useful filters
Internet of Things
The IoT Box allows you to connect external devices, such as printers, scales, etc., to your Odoo database.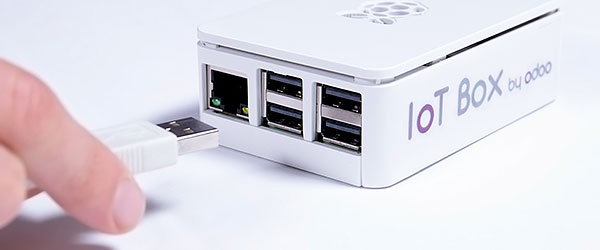 Related article:
Odoo IoT box vs Odoo Direct Print
Conclusion about Inventory and MRP in Odoo v17
In our opinion, MRP and Inventory modules of Odoo Community 17 cope well with most business cases for which production is not a key business component. But if your business has a complex production system with quality control needs at every production stage, as well as full planning of work orders, then Odoo Enterprise 17 will be a good solution for your business.
As for connecting barcode scanners, this will certainly be a good improvement for your warehouse workers; however, this solution is mostly suitable for companies with a very small warehouse and a small number of orders.
Hire more workers or optimize inventory and manufacturing operations?
Marketing in Odoo v17 Enterprise
Social Marketing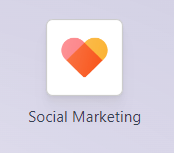 Social marketing assists content marketers in crafting and scheduling posts, overseeing multiple social media accounts, evaluating content performance, and engaging with social media followers, all from a single, centralized platform.

Marketing Automation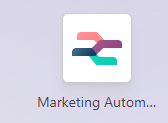 Marketing Automation streamlines numerous marketing tasks by applying predefined rules and filters to trigger timed actions. Instead of manually creating each campaign step, like scheduled mass emails, the Marketing Automation app empowers marketers to construct entire campaigns, including all their stages, conveniently within a unified dashboard.
One of our clients in the medical sector from the US sends over 70,000 emails daily via Odoo's Marketing automation app.
Marketing Automation offers specific metrics, which are in-depth statistics used to gauge the progress and effectiveness of marketing campaigns. When creating marketing activities in a workflow, Odoo visually displays various metrics related to the campaign in detailed graphs.
Campaign management (easy segmentation, advanced workflows, visitors tracking, advanced statistics)
Triggers (time conditions, expression builder, email interactions)
Automation (automailing, automated SMS, custom actions with data update and python code)
Integrations (CRM, eCommerce, events, SMS marketing, email marketing, Helpdesk)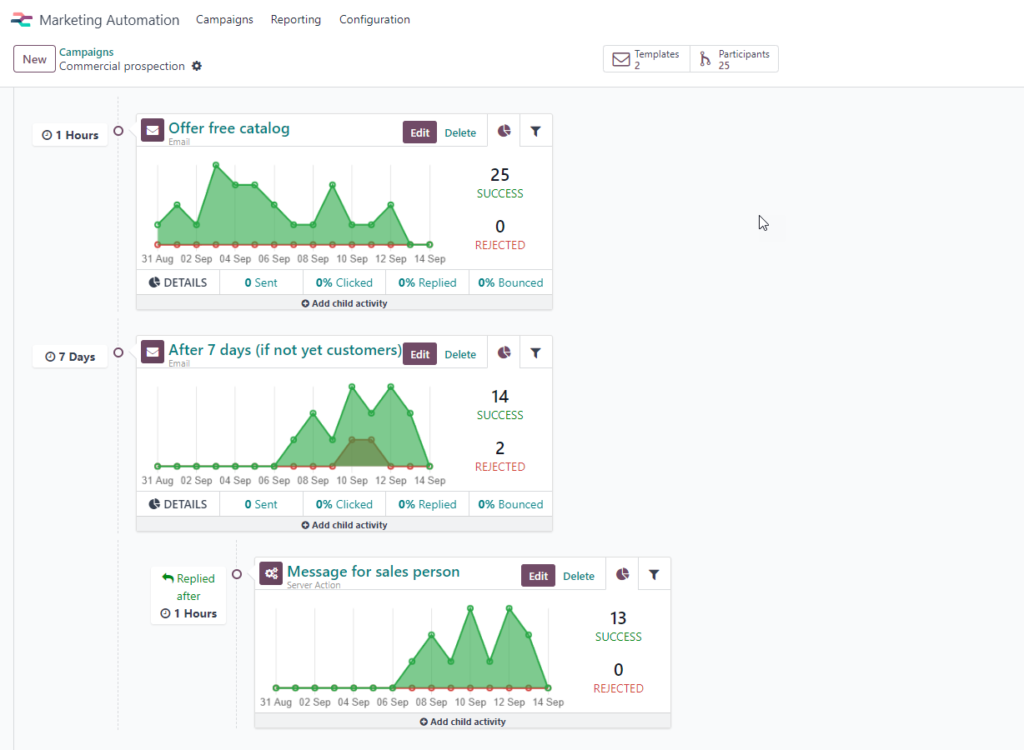 Conclusion about marketing in Odoo v17
Marketing features in Odoo are not specialized knowledge but rather encompass the essentials. In our years of implementing Odoo, we've rarely encountered situations in which our customers were highly interested in Odoo's marketing features. They tend to focus on optimizing their sales, purchasing, warehouse management, and internal workflows, rather than placing significant emphasis on marketing.
Typically, marketers rely on specialized tools and instruments offered by industry leaders in the field. Marketing is an area where everything evolves rapidly, and it's crucial to stay at the forefront of the latest trends.
Build your marketing in Odoo, or use specially designed professional instruments?
Service Management in Odoo v17 Enterprise
Helpdesk
Helpdesk is a ticket-based customer support application. Teams can track, prioritize, and solve customer issues from a pipeline, which is configured in customizable stages. Multiple teams can be configured and managed in one dashboard.

Helpdesk can be integrated with Forum, eLearning, and Knowledge apps to create the help center.
Main features:
Support teams
Ticket balance
SLA policies
Customer ratings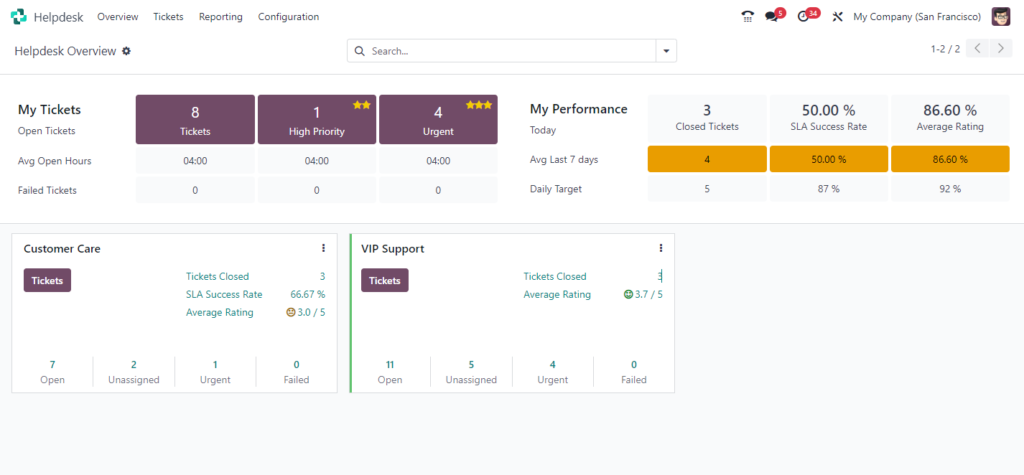 Knowledge
The Knowledge app allows internal users to enrich their business knowledge base and provide information collected individually or collaboratively, such as: FAQs, help tips, "How to use", and any other useful articles for company employees.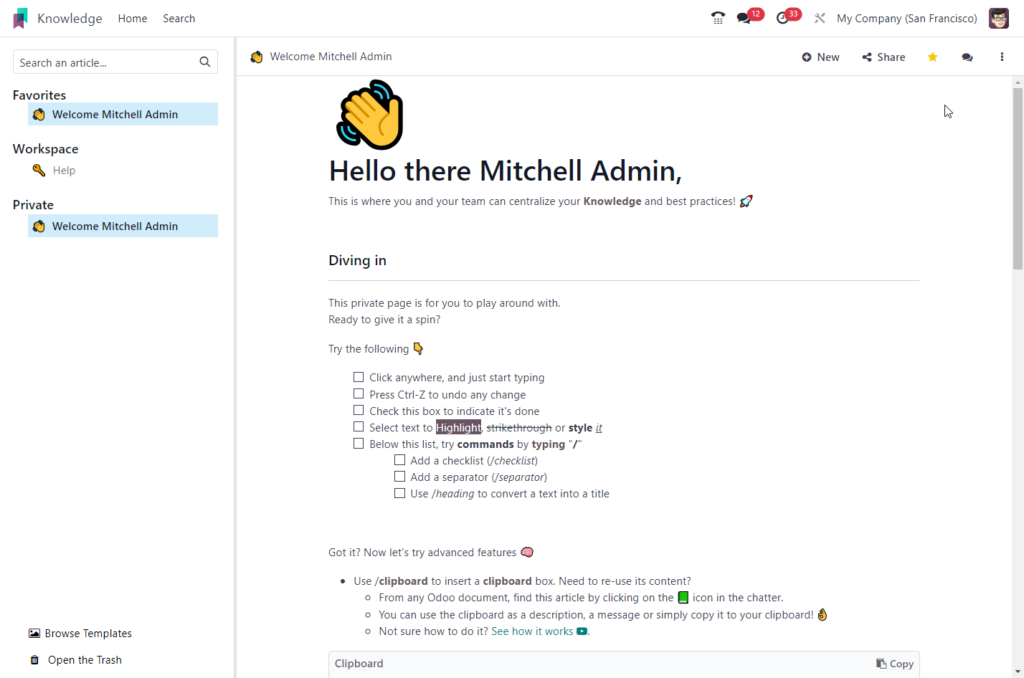 Users with special access can write articles and improve their company's knowledge database. Articles consist of a title and body text, and they provide useful features for text editing, adding images, symbols, special highlighting, etc.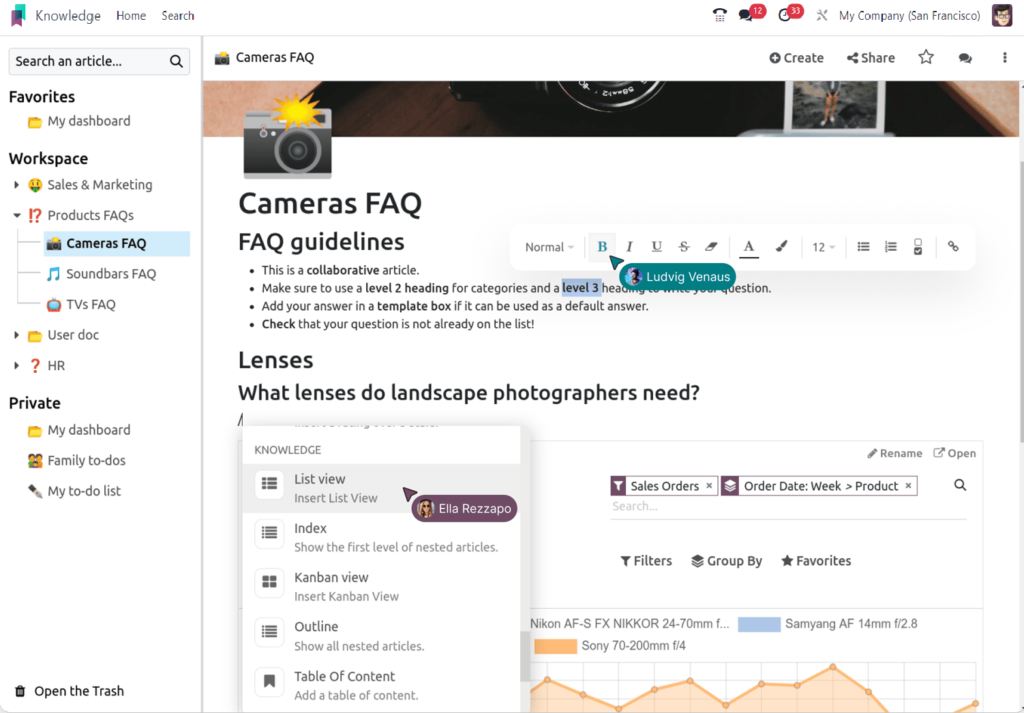 The Knowledge application can be called a simple analogue of confluence.
Timesheets
Advanced timesheet features:
Employee reminders
Approver reminders
Timesheets invoice policy

Field Service

For service provider firms, field service operations must be managed effectively. Without proper supportive management of employees, tasks, and accounting activities, service provider firms can fail in their field operations. Odoo has developed a field service module that is integrated with other modules in consideration of a firm's field service needs. Furthermore, this module can be used primarily to run a service provider company with proper configuration and customization, which is efficiently possible with Odoo.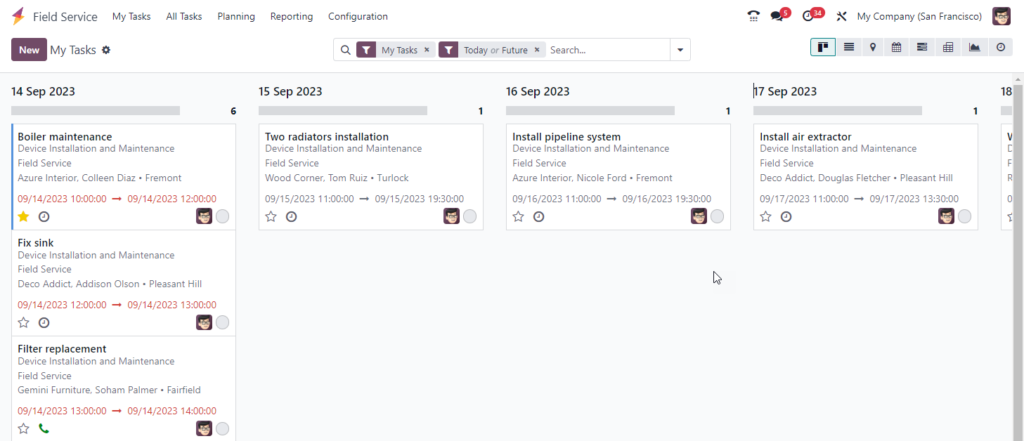 Planning

This is an advanced feature for planning of resources (employees, materials). Odoo v17 planning module helps in scheduling employees for their work shifts. By using the planning module, users can create shifts very easily. After installing the planning application and redirecting to this module, a schedule dashboard can display daily, weekly, and monthly schedules.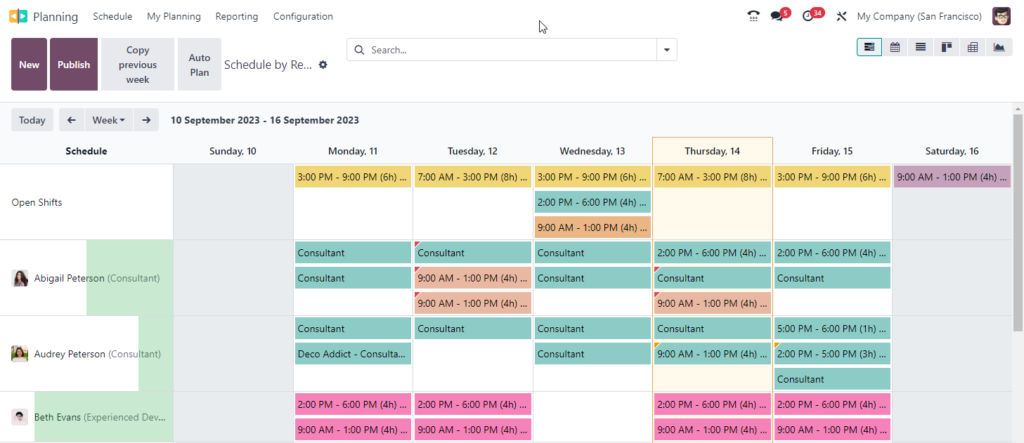 Appointments

This self-service reservation system is available online 24 hours a day, 7 days a week. Clients can choose the type of meeting and who they want to meet. The desired time slot is selected based on availability. The event is automatically saved to your work calendar, and a confirmation email is sent to both parties.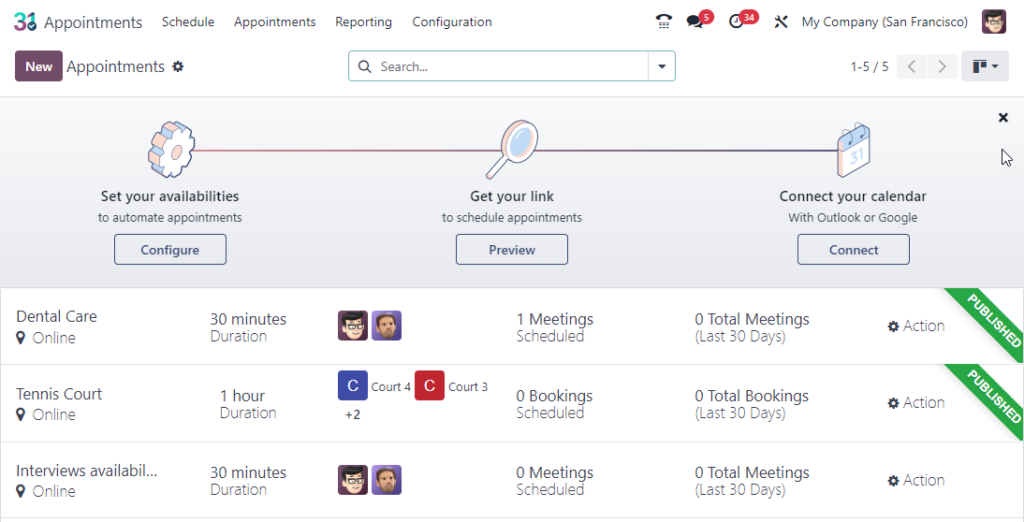 Conclusion about service management in Odoo v17
Odoo v17 Community has main modules: Project and Timesheets. They work well for many cases, but Enterprise provides more modules and is very useful for common businesses.
The Awesome Timesheet mobile application is being discontinued in 2023. The application is being unpublished from all stores. Customers who still have it installed will still be able to see it but may not be able to synchronize data properly.
Helpdesk is an important module for customer satisfaction and covers main business needs. But if you want use Helpdesk as Service Desk (ITSM), then Helpdesk will not fully suit those needs.
Field Service in Community can be replaced with the free official OCA module, Field Service.
In general, all Service Enterprise modules will be useful, but most of them have alternatives that can work the same and have a little more functionality that your business may be missing.
Will Odoo fit my service company?
Human Resources Management in Odoo v17 Enterprise
Advanced Recruitments
CV digitalization (OCR) allows digital CVs of your potential employees to automatically extract the following information: name, email, and phone number. You may also access CV previews directly in the app.
Reporting: Source analysis, time in stage analysis, team performance.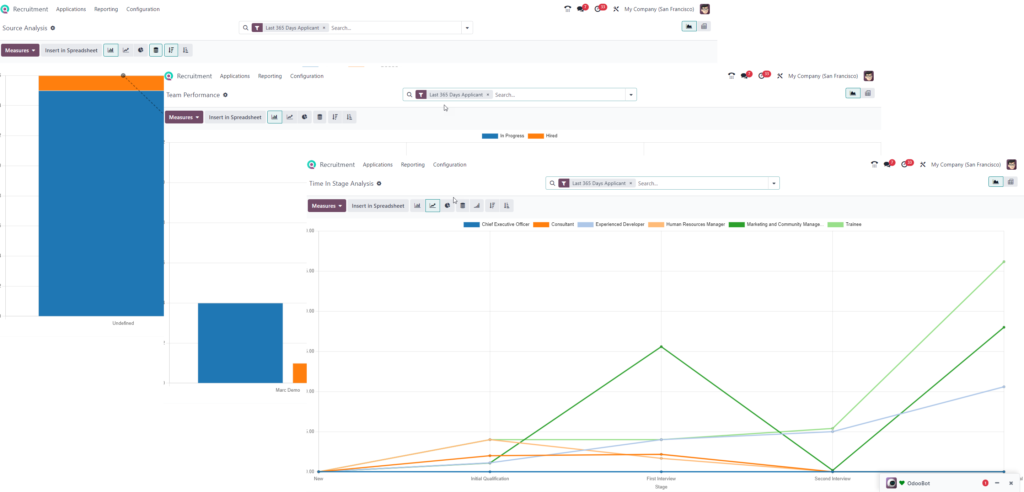 Registration Desk for Events
This feature allows users to register using a barcode scanner.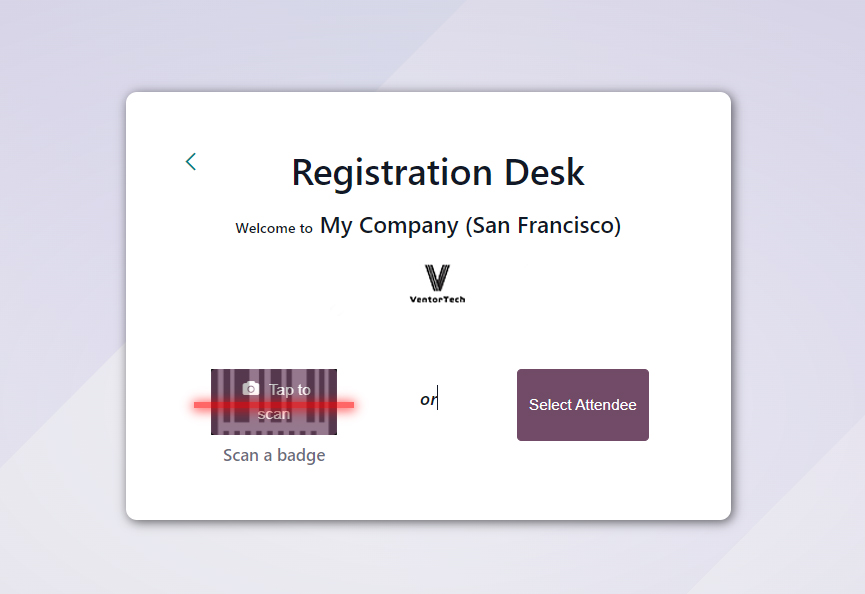 Referrals
This feature allows you to set up a referral program to incentivize your customers or partners to refer new business to you.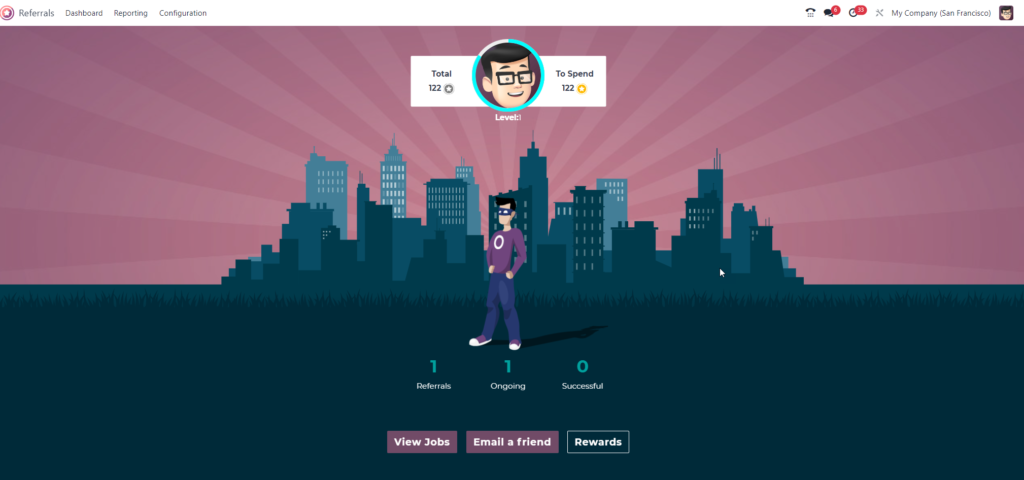 Appraisals
Rewarding and evaluating employees according to services rendered is an important aspect of any business management. Appraisals provide employees with satisfaction and job recognition for the services they have rendered over time. There are various parameters and analysis that should be done before employee creation in a company. These parameters and terms vary from organization to organization.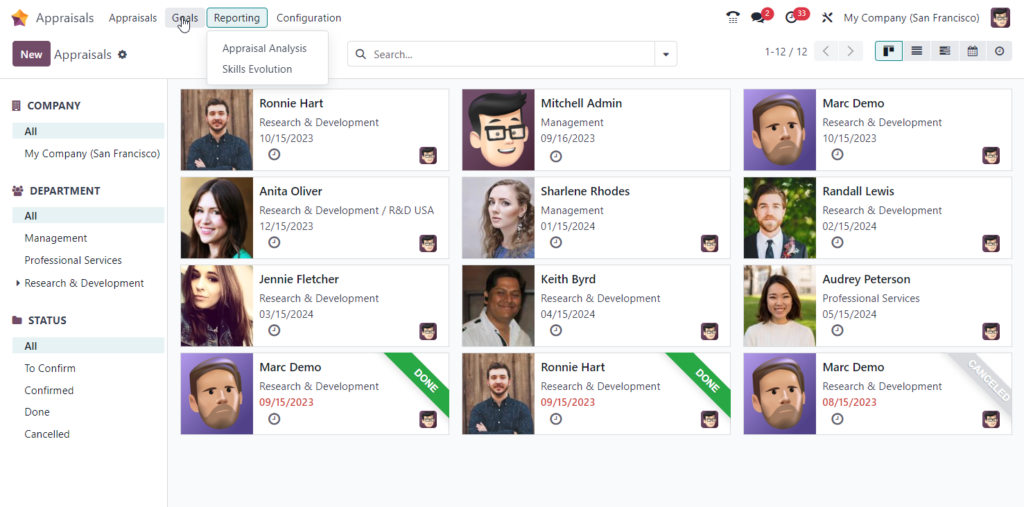 Conclusion about HR management in Odoo v17
HR Management in Odoo v17 Community contains most of the important features. Additional modules such as Referrals or Appraisals are not essential features, and most companies can do without them. Therefore, if you are considering either Odoo Community 17 or Odoo Enterprise 17 for working with employees only, then we suggest using the Community version.
But for some large companies where a small function like OCR Digitization will greatly improve the employee hiring process, then, of course, Enterprise can be a good alternative.
Summary
Licensing: Odoo Community is cost-free with no licensing or subscription expenses, while Odoo Enterprise requires a subscription. Odoo Enterprise's user-based pricing model often benefits smaller companies.
Features: Odoo Enterprise offers an array of officially supported features, which is the right choice if you require full-fledged accounting, bank and carrier integrations, or run manufacturing.
Costs: Odoo Community is free, but it doesn't mean it's expense-free. You'll need to develop missing features or purchase ready-made apps. Enterprise also requires customization or ready-made solutions in some cases.
Some features in Enterprise may be in a raw state, such as e-commerce connectors, barcode apps, and IoT functionality. However, reliable third-party solutions are available in the market. Even if a feature is included in Enterprise, ensure that it aligns with your specific needs.
Customization: If your specific business requires extensive customizations, Odoo Community may be suitable, but be prepared for potential migration challenges when upgrading to newer versions. In some cases, it may be efficient to start with a customized Community version for 3–5 years and then transition to Enterprise when more features become available in the standard offering.
To determine the best edition for your business, you need to consult with an experienced Odoo partner.
Recommended articles: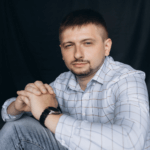 - Quality Assurance Specialist
- Data Analyst
- System Analyst
- Odoo v14 Functional Certification
- Odoo v16 Functional Certification