During CEBIT we were asked numerous times:
How can I manage company finance in OpenERP?
Is it good enough for Belgium, Italian or German accounting?
How to integrate ERP with our accounting services provider's software?
Questions are valid for most of the businesses worldwide, so here is one of the visions that can make your software infrastructure functionally rich but still flexible.
Introduction
Proper selection of Financials Management Strategy affects company health and depends on several parameters. First of all is the quality of local bookkeeping systems. Second is how good localisation is being implemented for ERP system that is being integrated into company. And the last one is recommendation of accounting services provider which system it uses internally.
There are two approaches of financials systems configuration:
1. Full financial management is being done in new ERP. We advise to select this approach only in case of high quality localisation for the country and if ERP vendor constantly updates localisation according to tax documentation and laws changes.
2. Invoicing and analytics are being done in ERP and bookkeeping is controlled by local accounting software. There is very a important reason behind this option. That is primary business of local accounting software vendors to follow changes in laws and be up-to-date immediately properly change tax reporting forms and coefficients. Moreover, accountants are got used to interfaces of these applications and there is no need of additional employees training investments.
We are describing second approach in current document.
Financial Management Integrated Process
Core idea is to split processes and data in two groups:
1. Business Significant Processes
2. Bookkeeping Processes
First group includes Accounts Payable, Accounts Receivable, internal reporting and analytics. Bookkeeping deals with journal records, sub accounts transactions and tax reports generating. Software applications are being splitted accordingly: Business significant operations are being managed in ERP and bookkeeping in local accounting software.
Let's consider case of creating invoice for customer, receiving money and analysing operations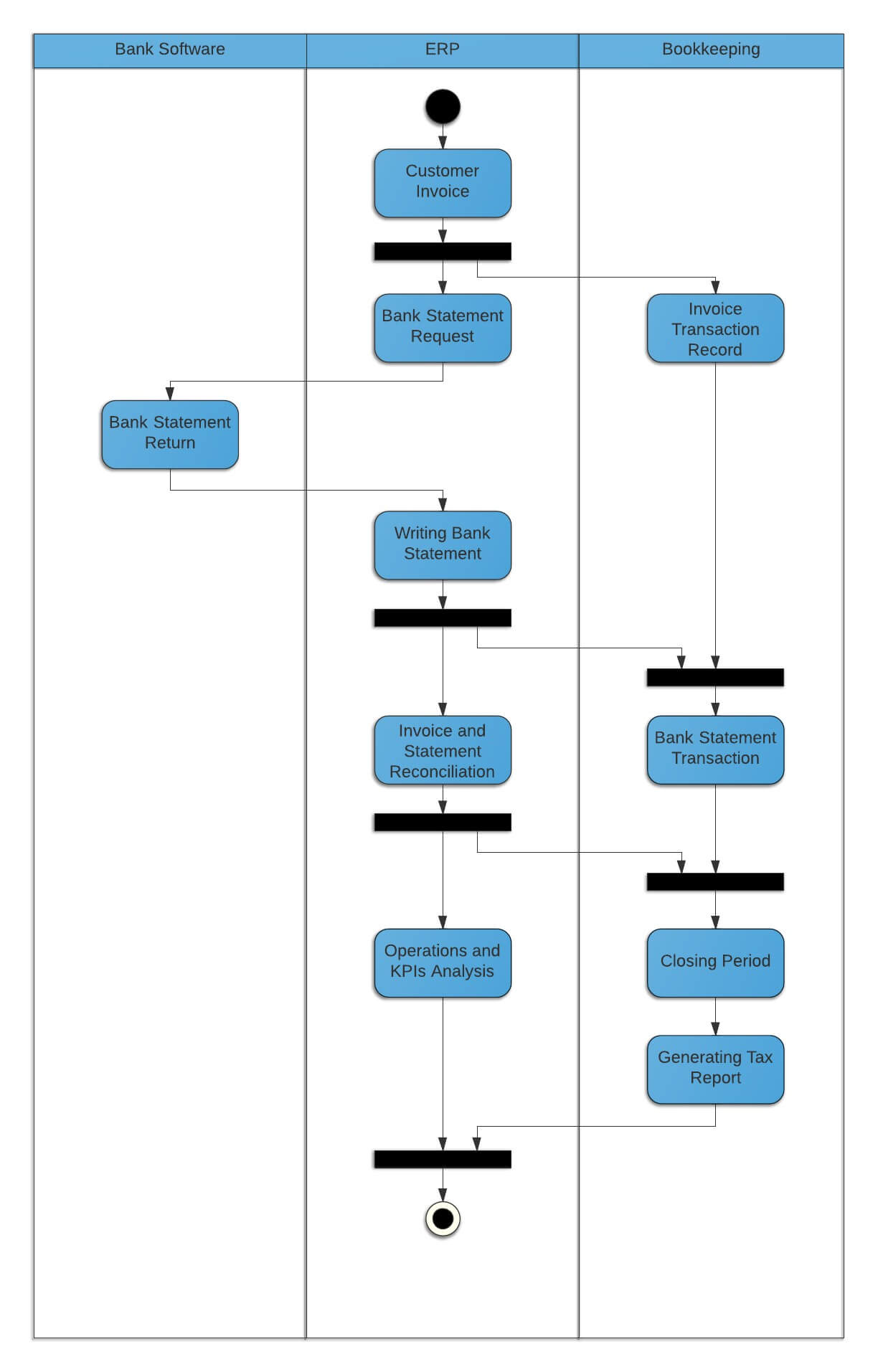 In the case above company creates invoice, sends it to customer, receives money, register it with bank statement in ERP, makes reconciliation and analyses results. All operations related to bookkeeping like Chart of Accounts management, making correct records on accounts, balancing, closing periods and generating tax reports are being done almost independently by accounting contractor in their own software that was designed specifically for bookkeeping. Both systems can be integrated for automatic records creating. That makes business management more user friendly because end users deal only with business entities like invoices, bank statement and results analysis
Similar process is applied to Accounts Payable process. Company just registers suppliers invoices and makes payments.
We suggest to pay more attention to Managerial Accounting also called Analytic Accounting or Cost Accounting and Business Intelligence configuration. Managerial Accounting is Business Centric view on profits and loss on the level of customers or products and not detailed transactions like in standard Chart of Accounts. This functionality allows to flexibly define and group costs objects and analyse economic results of company.
Let's talk about your business automation with Odoo
Recommended articles: