In this article you will find answers to the following questions:
Is it possible to upgrade to Odoo 17 yet?
What is the cost for the Odoo 17 upgrade?
And is it wise to upgrade to the newest Odoo version?
When will we be able to upgrade to Odoo v17?
Odoo 17 has been available since November 8th on Odoo Online, or you can download it on Odoo.sh.
Upgrade scripts are already available for everyone in a test version, but a stable version for production databases will be open for on-premise and Odoo.sh customers in January.
Keep in mind that v16 came out for Odoo.sh production branches in February of 2023.
We recommend our clients migrate to a new Odoo version no earlier than three months after release (usually during this period, there may be various bugs and errors).
Note: If you have third-party modules and customizations, you will need to wait until their developers release new versions adapted for the 17th version of Odoo.
The cost and lead time of Odoo migration
The cost of migration depends on many factors, such as the size of the customer, modules used, customizations, etc. We estimate the minimal approximate cost for migrating to Odoo v17 at 50 hours and lead time at one month, as this will require a lot of communication, checks, and other actions. For example, we migrated a customer with zero Odoo customizations and it took 70 hours.
Note: If you have the community or third-party Odoo apps, you need to buy them again for the 17th version on the Odoo app store and install them.
If you use the VentorTech modules and you are a VentorTech Ecosystem subscriber, those apps will be migrated to Odoo 17 free of charge.
Why is the Odoo upgrade not just an update installation?
In simple words the upgrade process is as follow: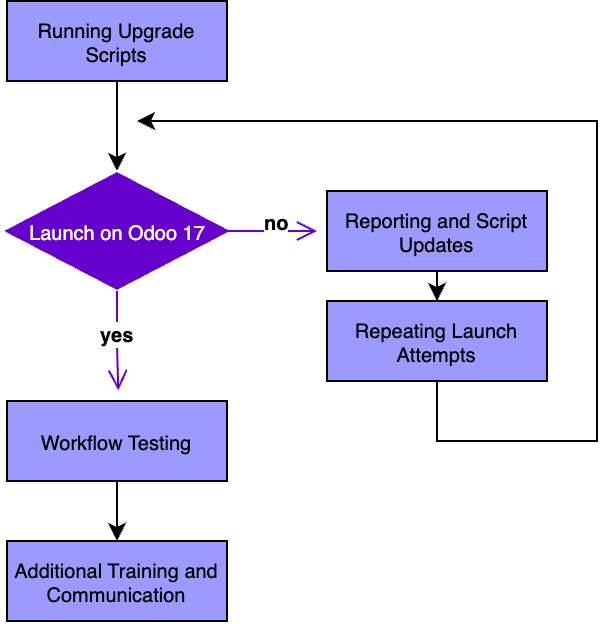 Running Upgrade Scripts
The dump of your Odoo database undergoes execution through upgrade scripts.
Initial Launch on Odoo 17
Attempting to initiate the upgraded database on Odoo 17. It may encounter issues such as failure to launch, partial functionality, or successful launch and operation. Unfortunately, even with the stable version of the scripts, encountering the first two scenarios is highly likely.
Reporting and Script Updates
In case of problems, reporting the issues to Odoo is essential. They will address and rectify the issues, subsequently releasing a new version of the scripts. This resolution process may take some time.
Repeating Launch Attempts
Upon receiving a fix, each fix necessitates trying to launch your database on Odoo 17. Typically conducted during weekends to minimize disruptions to your company. If the migration fails, it's necessary to await the fix (refer to the previous point) and select an opportune time for the next migration attempt.
Workflow Testing
After successfully running your database on the latest Odoo version, it is crucial to conduct thorough testing of all workflows. This involves ensuring that managers, such as warehouse manager, accountant, sales and marketing managers, manufacturing manager, etc., can effectively execute their workflows within Odoo 17.
Additional Training and Communication
Almost invariably, additional training is necessary. Numerous aspects change with each new Odoo version, necessitating the education of staff to operate within the updated system. This may involve extensive communication with your Odoo integrator.
Is it necessary to upgrade to every new Odoo version?
As seen above, it's not about mobile app updates. ERP is the core system in your company. The upgrade process is stressful for all involved and will consume much time and money.
We recommend upgrading once every two years. But it needs to be evaluated in every particular case. Sometimes, annual upgrades can be reasonable.
---
Our team has been engaged with Odoo ERP for over 10 years. In this period, we have conducted hundreds of migrations across various Odoo versions (Community to Community, Enterprise to Enterprise, Community to Enterprise, and from OpenERP 6.1 to Odoo 17). These migrations encompassed a spectrum of customization levels, ranging from systems with zero lines of custom code to highly customized systems where the upgrade process extended over 6 months. As you prepare for migration, gaining a clear understanding of the associated costs is a prudent step.
Let's estimate and talk about your Odoo 17 upgrade
Recommended articles: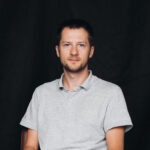 - 7+ years of experience in online and offline marketing
- 4+ years of experience in B2B marketing (IT companies, ERP/CRM systems)
- Main project roles: Marketing Manager, Customer Support, Sales Manager
- Increasing brand awareness. Implementing marketing strategy.
----------------------------------------------------------------------
Education: Bachelor's degree.
----------------------------------------------------------------------
Experience:
Marketing Manager
XPANSA Group
Marketing Director
sci.AI startup
Business Development Manager
Cardinal 9
Technical support and marketing
Tavrida Electric
----------------------------------------------------------------------
Current position: Head of Marketing VentorTech
----------------------------------------------------------------------
Licenses & certifications:
Product Analyst.
OTUS.
Google AdWords - search advertising.
Google.
Inbound Marketing
HubSpot.