One of the main problems in the warehouse management is data synchronization. Warehouse workers, in most cases, make use of barcode scanners. Any available item can be chosen from the warehouse's database and applied to any warehouse operation.
For example, a warehouse worker may need to receive items or create inventory out of the selected product. With a scanner, you record all the product's information on the device's internal storage space. After that, you need to use a special program that imports those files from a barcode scanner into your Odoo ERP.

To help our customers have an efficient way of interaction with barcode scanners, we developed a special mobile app – Ventor app. With "Ventor", all warehouse processes are available out of the box, and there is no need to separately integrate ERP and a barcode scanner.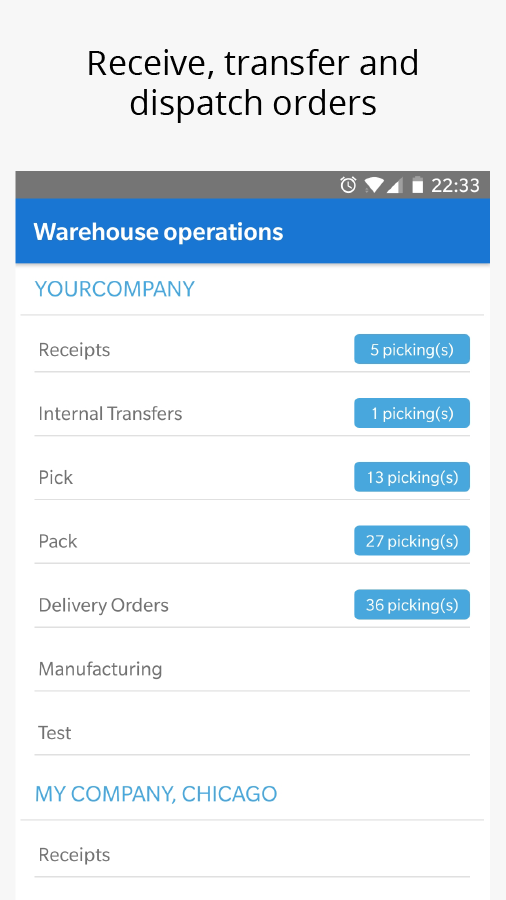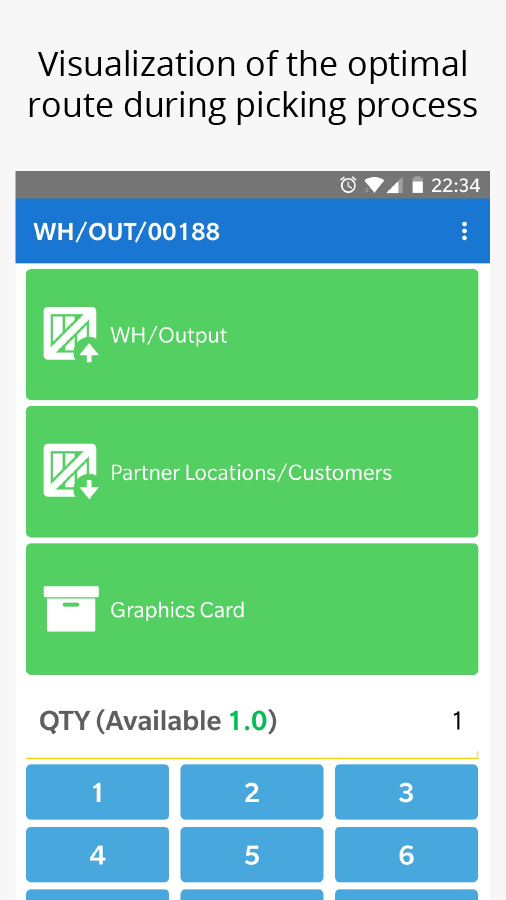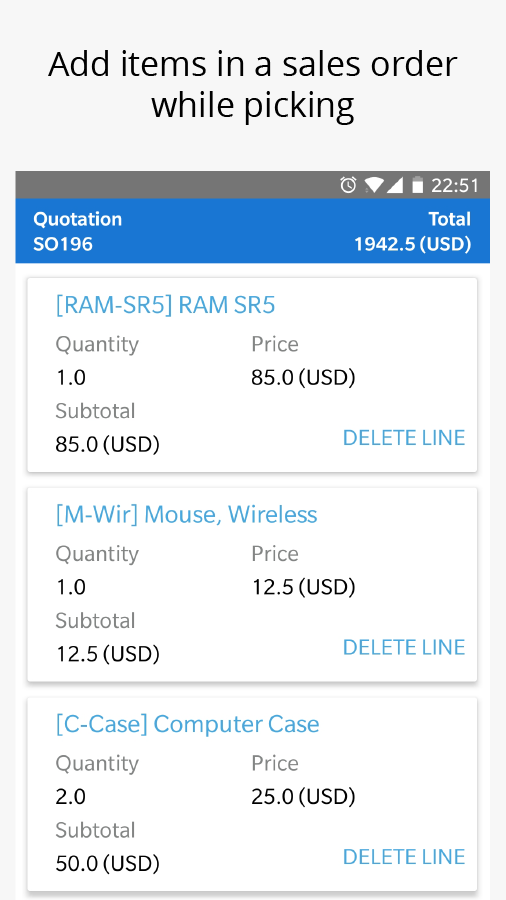 With "Ventor" all warehouse processes will be available out of the box, and there is no need to separately integrate ERP and a barcode scanner
There are three options to integrate a barcode scanner with Odoo. Let's look how in just a few minutes you can sync the app with a barcode scanner and Odoo ERP.
1. Built-in mobile camera
2. Bluetooth and wired barcode readers
3. Professional mobile computers
Built-in mobile camera
If you don't have a warehouse or use it rarely (possibly as a small shop), you can scan products using a built-in mobile camera. In this case, you can use the smartphone camera as a barcode scanner.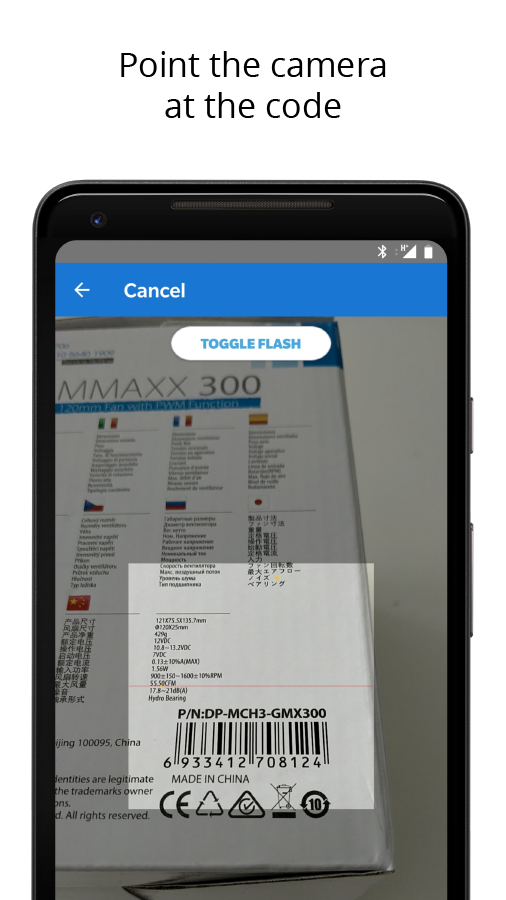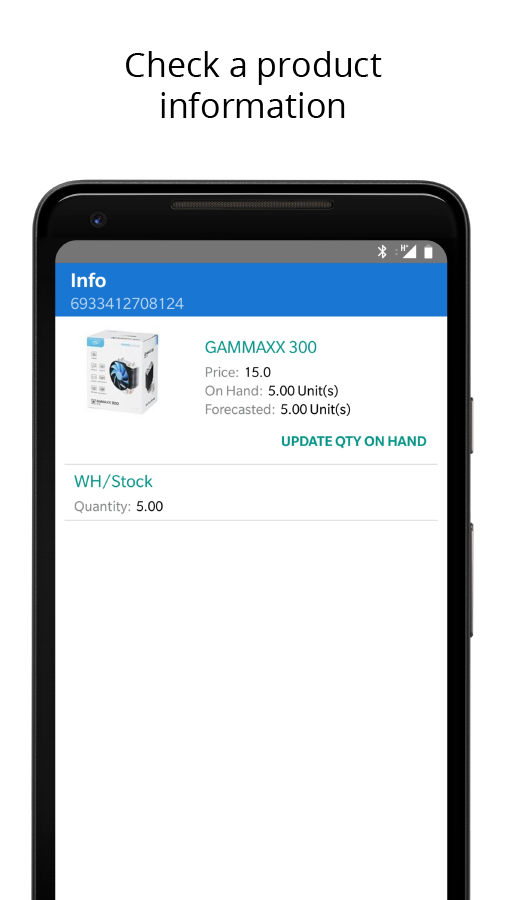 Simply open the app, point the camera at the code, and you're done. You don't need to use an additional app for barcode reading. This is a good solution for processing up to 50 goods per day. For example, you may want to find a product's price (product info operation) or move goods quickly from one shelf to another (internal movement).
Bluetooth and wired barcode readers
If you have a small warehouse at your shop and you process no more than a few dozens of orders daily by yourself, the option with a handheld Bluetooth or wired barcode scanner connected to your Android mobile phone or tablet is most suitable for you.
> Check out these instructions on how to connect a barcode reader to Ventor.
Using such barcode scanning devices in pair with Ventor gives you some advantages over scanning via a built-in mobile camera:
External barcode scanners work faster and are more accurate than just a mobile camera;
Comfortably scan hard-to-get items and uncomfortably located barcodes;
You can work in dimly lit rooms;
Longer work because you don't use a camera which depletes the battery.
You can also use special arm holders for mobile phones or fix it on a cart and use finger held scanners to free your hands.

Professional mobile computers
If you store your goods in your own dedicated warehouse (warehouses) and have employees to manage goods, the only right solution for you is professional Android-based barcode scanners, such as Zebra (Motorola) or Newland.
General warehouse operations include receiving, picking, and shipping goods, making inventory adjustments and more, and should be performed with professional equipment. There are some reasons why:
Professional scanners scan and work very fast (2-4 times faster than wired scanners of the lower price segment);
You can scan goods at long range, from 0.5-0.8 m to as far as 15 ft./4.5 m away. A mobile camera can scan from up to 0.2 m away only;
You can work with gloves;
The device is protected from moisture and water;
Some devices have a built-in magnetic stripe reader and push-to-talk function;
You can select a device with hardware keyboard and stylus;
Long-life battery (one working day on average). Smartphones work 2-5h only (with an active screen and camera);
Increased comfort when holding and using it;
Many additional accessories.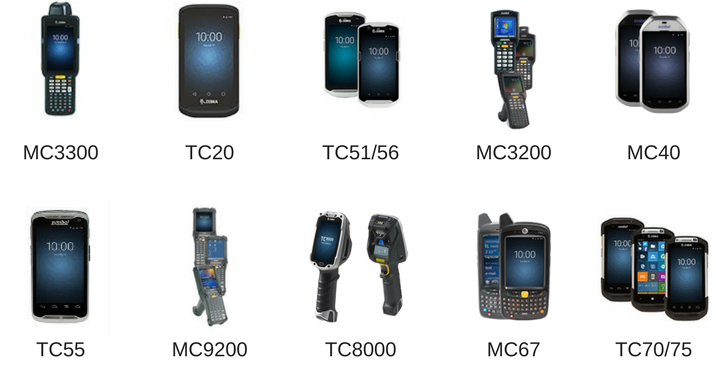 > If you use mobile computers from Zebra, everything will work out of the box
> If you use other mobile computers, check out this guide
How to configure a handheld device?
After starting the application, you need to authorize it under your ERP account. You will then get access to all your transfers, inventories and documents to manage warehouse using a scanner. Data obtained from the barcode scanner will be automatically moved to your ERP via Wi-Fi or a 3G/4G connection.
You should use the Ventor PRO version (Download demo APK). Note, the app works with Android OS starting from version 4.1.
Summary
To connect a barcode scanner to Odoo
Install the "Ventor" app on the barcode scanner (download a free trial);
Use the app to log in to your Odoo ERP instance (Server URL, Login and Password);
That is it. Your barcode scanner is ready to work with Odoo.
Photo by Zebra Technologies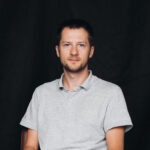 - 7+ years of experience in online and offline marketing
- 4+ years of experience in B2B marketing (IT companies, ERP/CRM systems)
- Main project roles: Marketing Manager, Customer Support, Sales Manager
- Increasing brand awareness. Implementing marketing strategy.
----------------------------------------------------------------------
Education: Bachelor's degree.
----------------------------------------------------------------------
Experience:
Marketing Manager
XPANSA Group
Marketing Director
sci.AI startup
Business Development Manager
Cardinal 9
Technical support and marketing
Tavrida Electric
----------------------------------------------------------------------
Current position: Head of Marketing VentorTech
----------------------------------------------------------------------
Licenses & certifications:
Product Analyst.
OTUS.
Google AdWords - search advertising.
Google.
Inbound Marketing
HubSpot.